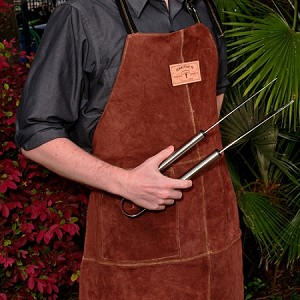 Note from the mamas: The winners of the Texas Irons Father's Day gifts are: Heather Grant, Marian Knaust and Lisa Vickery. Congrats, ladies!
Father's Day is less than two weeks away and that means picking out the perfect gift that says just what you think: "YOU ROCK, DAD!"
We know you don't want to get him another tie, so we teamed up with Texas Irons to bring the mamas a giveaway especially for the dads. You can sign up to win (and surprise him) or the husbands/fathers/grandfathers are welcome to sign up for these goodies themselves. Someone's gonna win — it might as well be your favorite guy! Actually THREE someones will win.
The three winners will receive one of the following:
A brand and board gift set. Due to popular demand, Texas Irons paired its beautiful Personalized Cutting Board with the best-selling Classic Branding Iron with Cedar Gift Box to bring you the Brand & Board Gift Set. The branding iron spells out the word "DAD" and the cedar gift box is hand-branded to match. (Click here to see more about this gift set!)
A personalized leather BBQ grilling apron. Your guy can grill in style with this heavy-duty leather apron. Featuring a soft suede finish on the front along with several handy pockets, this comfortable apron will protect him and his clothing from the perilous spills that come with outdoor cooking. Its soft cotton lining and adjustable straps provide a super comfortable fit. Features the Texas Irons exclusive logo which is customized to read "Dad's Steakhouse & Barbeque, Since 2012".  (Click here to see this manly apron in action!)
A rare, medium, well classic branding iron gift set. This one is a Texas Irons original! This custom made BBQ brand set includes the essentials for leaving the right mark on the right meat. Featuring three of their Classic branding irons with either "R" (rare), "M" (medium) or "W" (well) in a beautiful Cedar gift box branded with each letter. Constructed of durable 304 grade stainless steel to withstand even the hottest grilling heat, the brands come wrapped in an authentic western style bandana to complete the package. A great, memorable gift for anyone who loves to grill! (Click here for more details about this gift set!)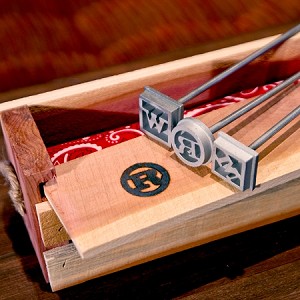 We've already seen these items up close and personal and can vouch for the fact that they are NICE. And the wood and leather smell so good 🙂

ABOUT TEXAS IRONS: Texas Irons was founded in 1998, a manufacturing company specializing in unique outdoor cooking supplies. At that time their solo product was the personalized steak branding iron. Over the years they've added a few things here and but continue to grow and build on the idea they had many years ago. Their line of BBQ Branding Irons consists of the original Classic Steak Brand,The Heatbacker, The Interchangeable Letter Brand, Blacksmith Style Irons and our newest idea, the "Switch Tips" iron.
"At Texas Irons we realize that guys are very hard to buy gifts for. Most of the time they already have every gadget under the sun. Based on what we hear from satisfied customers we've hit on a product that always gets smiles when given as a present. Many of our phone in orders start off with "Oh my, this is such a fun product that I never new existed."
"When we think back to our earlier years in business our rally cry was very basic. "People are proud of their barbecue". Let's give them products that can help them show off that pride. Why else would some cooks spend days marinating? Or others take time to carefully prepare special family rub recipes? (Good luck trying to wrangle secrets away from these hard-nosed chefs!) The dedication was always there. The only thing missing was a way to bring this pride to the table. Our products allow each outdoor chef to take pride in the meal that they create for friends and family. Our family owned company has filled orders all over the world. From celebrities and royalty to large corporations, our unique outdoor products are a great addition to any backyard chef's tool set."
HOW TO ENTER THE GIVEAWAY: Want to win a Texas Irons gifts for your guy? Just click on the orange comment button at the bottom of this post and tell us why your husband/dad/grandfather is one-of-a-kind (and definitely deserves one of these one-of-a-kind gifts)! What's something that makes him extra special? A great smile that lights up the room? The way he gets in the floor and plays forever with the kids? A high patience level?
You can also enter by sending your answer via email at giveaways@nwaMotherlode.com. Remember that we always pick giveaway winners AT RANDOM. (We use a random number generator.)
HOW TO INCREASE YOUR ODDS: Share the love for this giveaway with your peeps! We always reward those who help us spread the word about things going on here at nwaMotherlode.com. Just send an email to your friends and family about this giveaway and we'll give you an extra chance to win for each person you tell. Just be sure to put giveaways@nwaMotherlode.com on the CC line of your email so we can give you proper credit.
Click here if you'd like to cruise around the Texas Irons website. They've got tons of gift ideas!
Good luck in the giveaway!