Left: Rebecca Ramos Jewelry
In the state of Arkansas, the Rebecca Ramos jewelry is only featured in Scott Frame and Art stores. Each piece is handcrafted in Dallas, Texas and looks like wearable art. Asymmetrical design elements run throughout this year's collection of jewelry, and these pieces have an understated yet undeniably "cool" vibe. There are long and short necklaces, bracelets, cuffs, and earrings. Prices vary depending on size and style.
Right: Canoe Bags
When we walked into the Scott Frame and Art shop a few weeks ago, we were both drawn over to the Canoe Bags like magnets. They must have their own gravitational pull because we couldn't keep our hands off them. There are plenty of different styles and sizes, and no two bags are exactly alike. They combine rustic charm with metropolitan sophistication. You can get Kodiak leather, suede or hair-on-hide, and some of the hides might even have a ranch brand still visible! If "distinctive" is your thing, you'll love a Canoe Bag. (You might want to send a link to the Santa in your life?) Cost varies depending on size and style.
Where to shop: We love the distinctively local vibe of each Scott Frame and Art location. We always find artwork (including local photographs and Razorback prints) that we fall in love with when we're in the shop. Scott Frame and Art is located at 2603 W. Pleasant Grove Road in Rogers. (Store number is 479-696-8263.) They also have a Fayetteville location at 100 E. Joyce Blvd. (Store number is 479-443-7262.) In 2018, they added a new Bentonville store located at 100 SW 14th Street. (Store number is 479-464-7714.) Click here for a map to each store location. 
See more: Keep up with the latest announcements and product arrivals by following Scott Frame and Art on Facebook.

---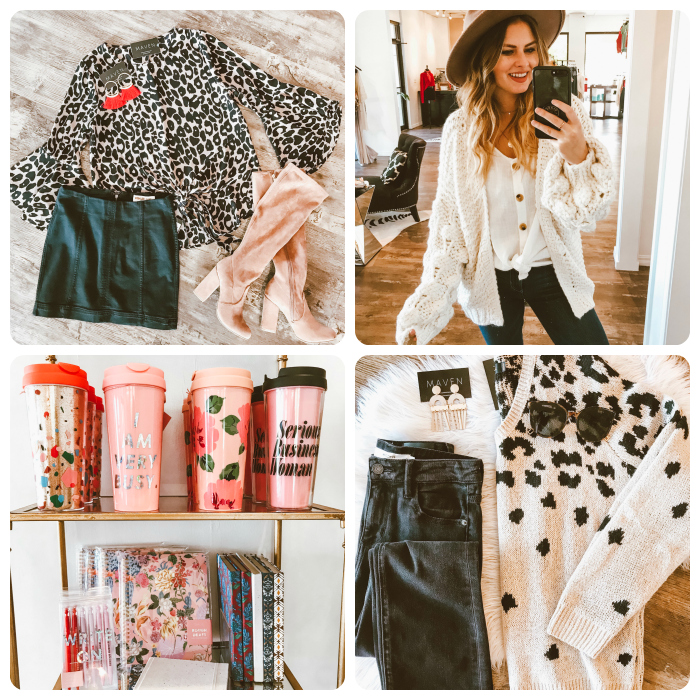 Above: Cute clothes, accessories and gifts
We've fallen in love with the clothes, cute accessories and gifts at Maven Boutique in Fayetteville. We always see something new and super cute when we're there, and there's a wide enough selection to fit whatever mood you're in that day — fun and flirty, cozy but cute, or an outfit worthy of a holiday party. Maven also has cute thermal cups, notebooks, accessories and even beauty products that would make great gift items for the women (or teen girls) on your list. Plus, you'll get to meet the store owner, Lauren Case, who is so fun to shop with! She'll help you find something you're excited to wrap up or take home for yourself.
Where to shop: Maven (which also has a Maven beauty salon inside) is located at 2418 N. Gregg Ave. (Suite 1) in Fayetteville, Arkansas. Phone number is (479) 287-4775. You can also shop Maven at the NWA Boutique Show on Nov. 16th and 17th or shop online anytime on the Maven website.
See more: To see what's trending and the latest in-store arrivals, follow Maven on Instagram and/or Maven on Facebook.
Above: Lou and Lill Tees
We first spotted the new Lou + Lill brand when we were shopping at Maven Boutique in Fayetteville, and we've been stalking their Instagram account ever since. We love these comfy, cozy and cute designs that have an unmistakable Northwest Arkansas vibe. Lou + Lill is the creation of Kelsey Lindaman, who is sister to Lauren Case, the owner of Maven. That's why you'll spot most of the Lou + Lill designs at Maven and online.  (Those are the sisters pictured on the right!)
Where to shop: Find Lou + Lill designs at Maven Boutique (2418 N. Gregg Ave. in Fayetteville). Shop both of these "sister companies" at the Northwest Arkansas Boutique Show on November 16th and 17th at the NWA Convention Center in Springdale.
See more: See the latest Lou + Lill creations by following the brand on Instagram and Facebook.