By Laurie Marshall
I think it's impossible to be more unsuccessful at living a healthy lifestyle than I have been lately. Not only did I fall off the wagon about four weeks ago, I seem to have let it roll right on down the road and have made myself comfortable here in the dust.
I know, the Thanksgiving holiday was in the middle of that four weeks. I know this because I was in the kitchen all day November 25th at my brother's house… how did that happen with me being the GUEST and all? Anyway, the pictures speak for themselves – there was some GOOD eating going on. For those Food Network fans out there, we had a deep-dish apple pie from Iron Chef Jose Garces' restaurant on the dessert table, and it had bacon in it. Sounds crazy, but it was sooooo yummy. The bacon just gave it a little smoky taste. Om nom nom!!! I have no pictures of the dessert table because by the time we had that course I was too saturated with tryptophan to pick up the camera.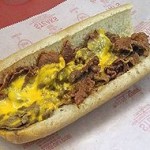 And did I mention we were in Philadelphia? We had to have Philly Steak sandwiches of course…Om nom nom Part 2!
So, even though thanks to the three flights of stairs in my brother's home I didn't gain weight that week, I have put on five pounds overall and I'm not pleased with myself. Changes need to happen.
That's where the Hubster comes in. I would not typically rely on my sweet hubby to lead me down any kind of healthy lifestyle path. His idea of diet food is eating pizza rolls instead of pizza… they're smaller. But he has gained quite a bit of weight over the last couple of years and has been complaining about it occasionally. I haven't said much in response because I didn't want him to get defensive or think I was being critical. I hoped that if I set a good example he might follow.
My example is never going to get him to eat more veggies or go to Zumba, but he DID say as we were driving by our gym – he's never stepped through the door – "I need to figure out how to get in there." I was doing a happy dance inside! I want him to be healthy for me and for our son and my girls. I know he wants to be around a while, but his diet and sedentary habits are not going to help him on that count.
So, I am doubly determined now to get the crappy food that has snuck back into the house out of the house and start doing something active every day. Thirty minutes on a treadmill at the gym or walking around the neighborhood – it doesn't matter. Just getting myself back into the habit of doing it is important. I've got an example to set.

Look for Laurie's fitness tips and updates on her personal health-focused journey every other Friday on nwaMotherlode in Mom Blogs. Send questions or input to her at mamas@nwaMotherlode.com. Or click on the comment button below and share your thoughts right now! To read previous installments of Getting Healthy for Good, click HERE.