Farmland Adventures in Springdale is a place you absolutely must visit with your family this fall.
They're open on Fridays and Saturdays (and Thursdays in October). On Fridays they're open from 1-9:30 p.m. and Saturdays you can get your farm fix from 9 a.m. to 9:30 p.m. In October, they'll be open on Thursdays as well from 3-9:30 p.m.
Farmland — who sponsors our Fall Family Fun Guide — is so much more than just a pumpkin patch, though. There's the Giant Corn Maze, pony rides, private campfires for groups, a kids' play area, pig races, a petting farm, fields with wildflowers and a cotton patch, a big rope spider web, a tire play area, human foosball, pony rides, pedal karts, wagon rides and more!
They also have birthday party options!
The Parsons family owns Farmland has they have seven children who help out on the farm throughout the year and during pumpkin patch season. Actually, the Parsons' oldest son got married in June 2018. He me his wife at Farmland when she was hired to help out at the pumpkin patch in 2015. Awwwww. They both worked at Farmland last fall but have since moved to Iowa. All the other kids are currently still at home and help out.
Every Thursday in October, Farmland will have live music and a face painter. (make sure to check on Farmland's Facebook page before going out in case the weather changes things). Unfortunately, the Sunflower Jubilee had to be canceled because the weather didn't cooperate 🙁
Farmland is offering online ticket sales for the first time this year and they now have internet capability which allowed them to update credit card machines so they're faster and more reliable.
The new theme for the giant corn maze is"Let Freedom Ring" and the design includes and eagle and liberty bell.
Heads-up, mamas: This year they have two more"Mother's Day Out" events coming up. Cost is $6 per person for anyone 3 and over. Anyone can take advantage of these special days with special pricing. Kids 2 years and under are FREE with a paying adult.
Wednesday, September 25th (9AM – 2PM
Tuesday, October 1st (9AM – 2PM)
And before we forget, here's a coupon to use for SEPTEMBER to save $2 off regular admission (you can print it out or show it on your phone):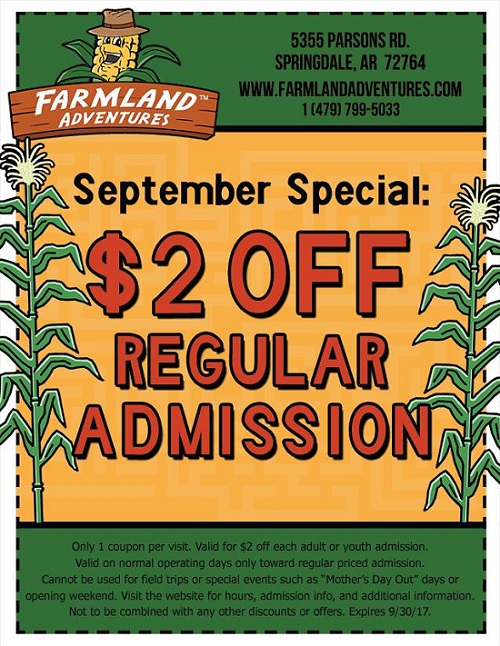 Of course, one of the biggest attractions at Farmland is the big corn maze. In the 9-acre maze you'll find twisting pathways, questions and answers, and picture rubbings. The maze is great for family bonding and team building because you're lost and must work through the challenge together. And then you get to share the victory together.
There's also a smaller Mini Maze, hidden within the Giant Corn Maze. At approximately 1 acre, this maze is great for younger explorers not quite ready for the Giant Corn Maze. Older participants can experience both mazes. Also, be sure to click here to read about Flashlight Nights, a totally unique experience in the maze.
Here are the top things you need to know before you go:
The wagon ride closes at 7 p.m.
You can bring outside food, though they have food trucks
The large corn maze entrance closes one hour before farm closing
Pumpkins are an additional charge and can be purchased at the red building before you leave
Campfires are for groups and must be reserved in advance (Fees apply)
Please leave your pet at home (Only A.D.A. registered service dogs are allowed)
No tobacco, e-cigarettes, or alcohol are allowed at the farm
You're going to have FUN!
Farmland Adventures is also a great place for fall farm photos. You can bring your own camera and snap all the pictures you want — or you can bring a professional photographer with you. {If you call ahead, they might already have one scheduled.} The photo opportunities are all around you, from beautiful scenery to peeking out from the fun wooden photo boards like this one: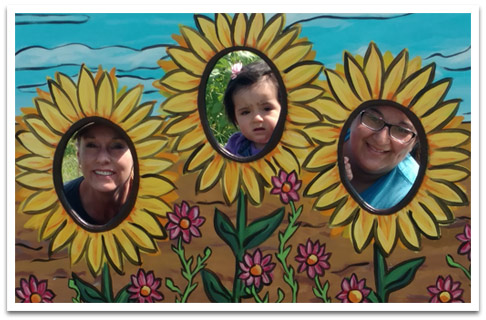 When you visit Farmland Adventures, please tell them you saw their ad and story on Motherlode 🙂