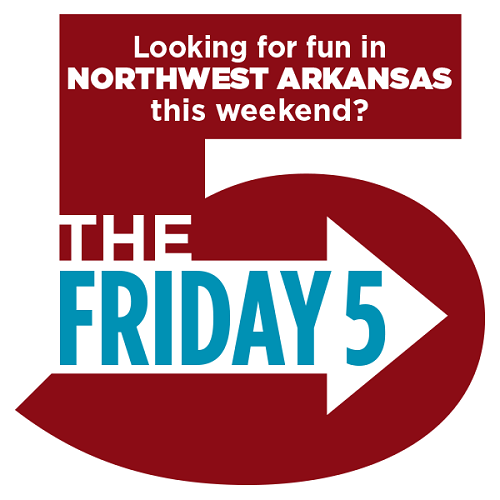 Happy Friday, mamas!
Time to make a plan for the weekend, woo-hoo! Here are 5 fun picks for things to this weekend in Northwest Arkansas:
Summer Dance Party at the Jones Center
The Jones Center's will host two straight hours of dance on the outdoor plaza. This Summer Dance Party series features instructors from across the region in a collaborative dance extravaganza. This event is free and open to the public.
Date: Friday, Sept. 28
Time: 6:30-8:30 p.m.
Location: Jones Center for Families, Springdale
This family workshop is exploration driven by the child's natural interest and curiosity about the world around them.  Workshops focus on making things with real materials, opportunities for using tools and open-ended activities that emphasizes process over product. For children ages 3-6 years and one adult caregiver. The Amazeum recommends no more than 3 children per adult. Advanced registration and payment required. For Amazeum members: $5 per child, $5 per adult caregiver and for Non-members: $7 per child, $7 per adult caregiver.
Date: Saturday, September 29
Time: 10-11:30 a.m.
Location: Amazeum, Bentonville
Super Saturday: Storybook Strings
Storybook Strings is a string quartet whose members maintain diverse musical careers in schools, orchestras, churches, and jazz/bluegrass combos of northwest Arkansas and the Arkansas River valley. They collaborate to create original musical interpretations of popular literature, to provide excellent classical music for private events, and to inspire people of all ages with educational and exciting public performances.
Date: Saturday, Sept. 29
Time: 10:30 a.m.
Location: Fayetteville Public Library
Come witness the action as our drivers bring their cars to battle "old school style" to compete for prize money and bragging rights. Demolition Derbies are fun for the whole family.
Date: September 29
Time: Gates open at 6 p.m., event starts at 7:30 p.m.
Location: Parsons Stadium 1423 E Emma Ave, Springdale
The APO kicks off the 2018-2019 season with a fun family-friendly program. Dress in costume and experience some of your favorite Halloween-themed music. A costume contest and prizes for different ages.
Date: September 29
Time: 3pm
Location: Arend Arts Center, 1901 SE J St, Bentonville