Spending quality time with your family is so important but sometimes coming up with things for everyone to do can be a challenge! Never fear, we are here to help with five activities going on this weekend that will be fun for the whole family!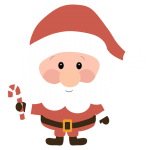 Are you looking for more holiday specific activities? Check out the 2017 Northwest Arkansas Holiday Events Guide or New Year's Eve events and activities in Northwest Arkansas.
If you still need to take the kids to see Santa, he'll be at the Northwest Arkansas Mall in Fayetteville and the Pinnacle Hills Promenade Mall in Rogers (from 8 a.m. to 6 p.m.) through Christmas Eve. He'll also be hanging out at the Walmart Museum in Bentonville on Saturday, Dec. 23rd, from 9 a.m. to 1 p.m.
Holiday Party for Kids and Families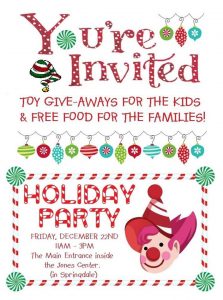 Toy giveaways for the kids and free food for families to help make the holidays a little bit more cheery and bright.
Date: Friday, Dec. 22
Time: 11 a.m. – 3 p.m.
Location: Jones Center
More info: Click here
Game Day
Bring a friend or family member and play your favorite board games in the Library.
Date: Friday, Dec. 22
Time: 2 p.m. – 3 p.m.
Location: Springdale Public Library
More info: Click here
Holiday Movies: Home Alone
Free screening of the holiday movie Home Alone, feel free to bring friends and refreshments.
Date: Friday, Dec. 22
Time: 2 p.m. – 4 p.m.
Location: Fayetteville Public Library
More info: Click here
Super Saturday: Holiday Artsy Crafty
A fun variety of holiday-themed, self-guided crafts will be available for making, just drop in.
Date: Saturday, Dec. 23
Time: 10:30 a.m. – 12 p.m.
Location: Fayetteville Public Library
More info: Click here
Finding Neverland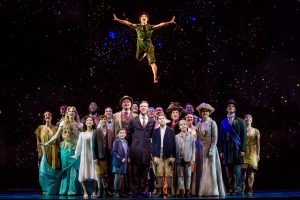 The winner of Broadway.com's Audience Choice Award for Best Musical, this breathtaking smash "captures the kid-at-heart," says Time Magazine. Vogue cheers, "It's a must-see you'll remember for years to come!" Directed by visionary Tony®-winner Diane Paulus and based on the critically-acclaimed Academy Award® winning film, Finding Neverland tells the incredible story behind one of the world's most beloved characters: Peter Pan.
Date: Tuesday, Dec 19 – Saturday, Dec. 23
Time: varies by day, see schedule
Location: Walton Arts Center
More info: Click here
---
The 5 events above offer some great options for the family, but if you have a sitter this weekend — and you're in need of a date night or a Girls' Night Out — our Friday 5 sponsor, Black Apple Crossing, always has a fun line-up of events during the week and on weekends.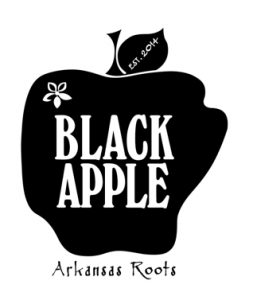 This weekend you can hear the Youth Pastor Christmas Special (Friday night, Dec. 22 at 8 p.m.) and  Woody and Sunshine (Saturday night, Dec. 23 at 8 p.m.). They also have Taco Tuesdays, trivia nights and book club events during the week! BAX has a new event every Thursday called Sip & Stretch Cider and Yoga Night starting at 7:30pm. 
Black Apple Crossing is the state's first cidery. It's located in downtown Springdale off Emma Avenue just past mile marker 13. Black Apple Crossing has produced naturally gluten-free hard apple cider with no added sulfites or other preservatives since July 2015. Click here to visit the Black Apple Crossing website.
They recently released their latest cider, Shadow Queen, an oak-aged Imperial peach cider suffused with a hint of vanilla for the holidays.