Have you picked up your first reading log from the Fayetteville Public Library?
The logs are available now and you can start turning them in at the Summer Reading Program kickoff celebration on Saturday, May 31, from 10am to noon. Whether you're a kid, teen or adult, you can participate and win some great prizes throughout the summer.
Mad Scientist Steve Cox, magician Doug Krueger, balloon animal artists Jojo and Yurple, and musician Troy Schremmer will perform. Also enjoy the face painting, crafts, free snow cones and bounce house fun. The Discovery van will also be joining the mix.
Click here to see the entire list of FPL summer events this year, divided into the categories of preschooler/toddler, elementary, family and camps and workshops.
Check out what's new this year at the kick-off celebration! The Fizz, Boom, Read 5 Senses Stations: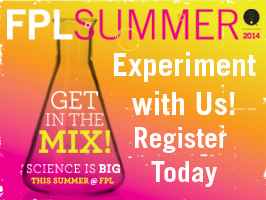 Feel: Community Creative Center provides an interactive exploration into how artists create and use textures with clay.
Smell: Experience the cosmos of smells from Michael Boyd's samples of essential oils, soaps, deodorant and salves.
Taste: Color your pallet with Ozark Natural Foods samples.
See: Snap a pic at the Making Memories Photobooth.
Hear: Listen to the sound of your voice and send messages across the airwaves on a transistor radio.  Take a short trip back in technology and forget your cell phone.
CLICK HERE to read more about the summer reading program and event kickoff!