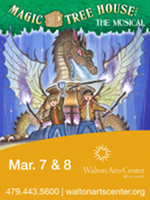 In March, Walton Arts Center is presenting Magic Tree House: The Musical, based on the best-selling series of children's books Magic Tree House by Mary Pope Osborne. To enhance audience experience, Walton Arts Center is hosting a month long celebration of literacy and theatre throughout Northwest Arkansas culminating in a 2-day Family Festival March 7 and 8. Several businesses and organizations throughout the area are preparing for the big weekend, by celebrating Magic Tree House during the month of February.
Local libraries and book stores in Washington and Benton County are planning activities to support the excitement of having The Magic Tree House: The Musical. As one librarian said, "February will be Magic Tree House Month as we lead up to the play!" They plan to host weekly Book Clubs, read-alouds and other literacy based activities.
In addition to the library and book store activities, families are encouraged to participate in Ozark Merlin Missions for children, which will lead them on their own adventures in the area. Families can visit several destinations to learn more about Northwest Arkansas such as the Fulbright Peace Fountain, Old Main, Prairie Grove Battlefield State Park, the Sam Walton Five & Dime or the new Museum of Native American Artifacts. This is an opportunity to play in the story, much like Jack and Annie in the Magic Tree House books.
Come out and celebrate the magic of reading and imagination! For a complete list of FREE family fun events during the month of February, visit waltonartscenter.org
For additional information about the Magic Tree House Family Festival or to purchase tickets to the March 7 and 8 performances, visit the WAC website or call the Box Office at 479-443-5600.