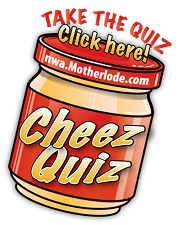 We're having lots of fun finding out more about you through the answers in our Cheez Quiz jar. The question this latest go-round was: "Which of the following phrases do you find yourself saying most often?" The possible answers included:
What do you say … ? (Prompting 'please' or 'thank you')
Settle down
Clean up this mess
STOP hitting/sitting on/pinching/torturing your sister/brother/the cat/the dog!
For a while, "What do you say?" was in the lead. But then it was edged out by "Settle down", which stayed at the top until the bitter end. "What do you say" and "Stop" ran neck and neck for the week, both finishing in a tie with 21% each.
So to recap, the winner was "Settle down" with 39% of the vote and "Clean up this mess!" came in last place with 18%.
We fill the Cheez Quiz jar with a new question every week, so be sure to pop the lid and check it out often. If you've already taken the quiz and you click on the jar, the window will open and show you the current results of the quiz. It is designed to accept only one response from each computer.
If you have an interesting question you'd like to put in our Cheez Quiz jar and find out how thousands of local moms would answer it, you can send suggestions to mamas@nwaMotherlode.com. If the question is gooey and cheezy enough, we just might use it.
Have a happy Friday, and be sure to take the new Cheez Quiz!