Guess who's got baby news? Brother John and his wife Susan just welcomed a new grandbaby to the family! Their son Spencer and his wife Madeline just had their first baby! May we present… Eliza Bea Cash!
Eliza Bea made her entrance into the world on Thursday, May 21, 2019, weighing in at 6 pounds, 8 ounces. Isn't she BEAUTIFUL?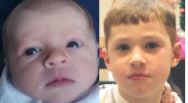 Judging by this side-by-side comparison of Eliza Bea's newborn picture alongside one of her dad as a little boy, we're going to say she looks a LOT like her daddy.
As you can see, Brother John is already one of Eliza Bea's biggest fans.
Along with John and Susan, we're giving thanks that this healthy baby girl had a safe arrival and that she and her mom, Madeline, are both doing well.
As you can imagine, Brother John was far too busy this week to write his column, but rest assured that the important "research" accomplished at the hospital this week will lead to plenty of future writing material. Can't wait to read all about the newest Cash grandbaby!
Congratulations!