This is the day the Lord has made;
 We will rejoice and be glad in it.  ~    Psalm 118:24 (NKJV)
By Bro. John L. Cash
There's an ever-present malady found in the teacher's lounge of every school in the universe. I call it "Leftover Store-Bought Cake Syndrome." You know what I'm talking about. The custodian had a birthday, and the administrators chipped in and bought him a cake at the grocery story. The cake was cloyingly sweet and had that intense coloring in the frosting that turned everybody's teeth blue for a week. Everybody was obligated to force down a slice, just to be social. The rest of the cake sat over the weekend until it turned to stone. Nobody ate anymore, and then it got dumped in the waste can. LSBCS is a cake tragedy.
I describe this scenario to tell you that we didn't have LSBCS in the Cash household last weekend.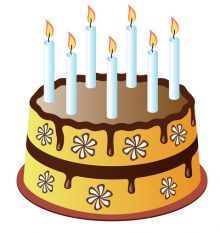 Susan made a homemade three-layer yellow sponge cake last weekend, complete with homemade chocolate buttercream icing. It was the most delicious cake I've ever eaten. And Sunday evening ended with the last visitor savoring the last crumb of the delicious cake. It was glorious.
When I told Susan this story, she told me I should send you (my dear readers) a message. She said, "John, I wish we had had YouTube when we first got married 35 years ago. I was always afraid to try making new things, and I usually didn't have anybody to show me how to do it, anyway. But now, thanks to the internet, I'm doing new things every day. There's a demo-video for every good thing in the world. So, tell your readers to get the directions off the internet, and try something new every day. My only regret is that I didn't get started sooner."
So, this week your assignment is to try something new. Attempt something wonderful that will bring a blessing to someone else. In doing so, you'll be fulfilling the Lord's prayer to do His will "on Earth as it is in Heaven."
After all, it's really a piece of cake….
Dr. John L. Cash is the "Country Preacher Dad." He was raised in Stuttgart, Arkansas, and has spent the last 34 ½ years being a country preacher in the piney woods five miles south of the little town of Hickory, Mississippi. He's currently on a sabbatical from the preaching ministry, and is an English teacher at the Choctaw Tribal School.   He and his lovely wife, Susan, live in a brick house in town (where the air had the first crisp notes of Autumn this week.) You can send him a note at countrypreacherdad@gmail.com.