41 And whoever gives you a cup of water to drink because of My name,
     since you belong to the Messiah–I assure you: He will never lose his reward.       
                                                 Mark 9:41 (HCSB)
By Bro. John L. Cash
I have a new teaching job which also means I have a new daily commute. Each school day, as I drive the country highways, I pass a site that brings back a sweet memory. It's a little general store where we stopped to fill up with gasoline over 40 years ago.
When I was an 18-year-old Bible college student, I spent my weekends traveling as  part of singing group which sang for a different congregation each week. On one such weekend—which brought me down to the area where I now live—we stopped at the mom-and-pop store to refuel and buy refreshments. I went inside because I was thirsty.
Now, if the transaction had happened today, I would have bought a bottle of water.  But, back then, stores didn't sell bottles of water. (It's kind of amazing when you realize that bottled water is kind of a recent invention.) And, at the time, I was on a special diet which prevented me from drinking soft drinks. So, for me, only a glass of water would do.
Because of my thirst, I asked the owner of the store if he would sell me a glass of water. (Most of the time, there isn't much in this life that's free.) And I've never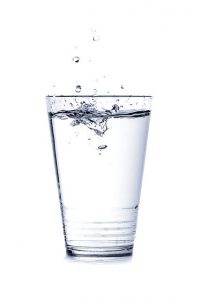 forgotten the answer the man gave me. "I most certainly will NOT sell you a glass of water. But I will GIVE you a glass of water in the name of Jesus Christ."
He filled a tumbler up with cold water, and after I drank it, he quickly filled it again.  According to today's Scripture lesson (at the top), he certainly did not "lose his reward."
Now, here's the incredible thing. Over fourteen thousand days have passed since that Christian gentleman met my request for a drink of water. And I still remember it.  Clearly, it made a deep impression on me. Forty years of remembrance over a glass of water.
So… if Christians want to make a mark in this fallen world, maybe they need to do more small, everyday things in the name of Jesus Christ. Maybe we need less public preaching and more public practice.
Allow me to illustrate with the story of two churches. In one city, a controversial rock star had a concert. One of the churches held a protest and told the people waiting in line that they were bound for hell. But another church handed out bottles of water (bearing the names of the church) to those standing in line.
I don't know about you, but if I were one of the people standing in that line, I'd probably be more warmly impressed by the church that gave me something to drink.  At this moment, I've had an ample supply of shouting and fighting and condemnation.  What I need right now is more of the hope that comes from Jesus Christ. After all, the Bible says that He's the Living Water.
Dr. John L. Cash is the "Country Preacher Dad." He was raised in Stuttgart,
Arkansas, and has spent the last 34 ½ years being a country preacher in the piney woods five miles south of the little town of Hickory, Mississippi. He's currently on a sabbatical from the preaching ministry, and is an English teacher at the Choctaw Tribal School. He and his lovely wife, Susan, live in a brick house in town (where Hurricane Sally just missed us this week.) You can send him a note at countrypreacherdad@gmail.com.