45 "Again, the kingdom of heaven is like a merchant seeking beautiful pearls,
46 "who, when he had found one pearl of great price, went and sold all that he had and bought it."  Matthew 13:45-46   
By Bro. John L. Cash
Keeping my baby grandson every day has filled my life with a multitude of joys.
Along with the blessings, however, there have been a few disadvantages. One of the most irritating is this: I am never able to find the remote control.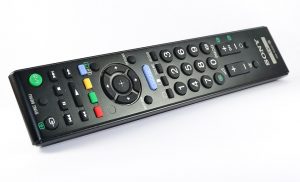 Landon sneaks and snitches a remote control any time he can possibly get ahold of one. I think he likes them because adults are always clutching them so intently. Also, he likes the power that a remote control gives him; he can change the channel, modulate the volume, or even shut down the television entirely.
When he was 9 months old, I used to take the remote from him and hand him my black clamshell eyeglass case.  Because it was a rough facsimile of a remote control, he would point it at the TV and try to press "the buttons".  He no longer falls for this scam since he's reached the ripe old age of 13 months.
I had somewhat of a disaster on Monday of this week. Landon took the remote to our Amazon Fire Stick (which allows us to watch Mister Rogers Neighborhood.)  I was preoccupied with something at the time, and I thought "He can just play with that for a minute while I finish this." After he walked out of the living room, the Fire Stick remote simply ceased to exist.
Remembering my junior high science class, when the teacher said "Matter is not created and is not destroyed" I knew that the remote was in the house somewhere.
A couple of things concerned me though. The first was that Landon is really, really good at putting objects where they can't be found. He's been known to put things in boxes, cabinets, and drawers.
The second thing that concerned me was remembering that my son, Spencer, put my wallet in the trash (under some discarded coleslaw)  when he was 13 months old. 
Well, after five days of much searching, the missing remote was found. It was in the guest bedroom, underneath the edge of the bed. When I located it, I immediately knew why Landon put the remote there. Landon had discarded his prize only because he had found something that he loves more: The mask and hose from my spare sleep apnea machine. We affectionately call this object, "The Snorkel."
There really is a spiritual lesson here. Nobody ever lets go of one good thing until they have found something better.
Jesus told a parable about this in "The Pearl of Great Price." A pearl merchant traveled the world until he found the pearl that he had been looking for his entire lifetime. And when he found it, he was so happy that the sold everything that he had to buy it. And then the merchant rejoiced, because he finally had his pearl.
The Pearl of Great Price is a story about how much Jesus loves us. He had the riches of Heaven, but gave up everything (even His life) when found the most precious thing of all—all of us (His children), who make up His Church. It's also the story of how each of us should love Jesus.
When we find Him, Jesus is the pearl beyond all comparison. This week, let's rejoice  give our lives in service to Him.
Dr. John L. Cash is the "Country Preacher Dad." He was raised in Stuttgart, Arkansas, and has spent the last 32 years being a country preacher in the piney woods five miles south of the little town of Hickory, Mississippi. He's a retired Mississippi public schoolteacher with grown sons, and is now a stay-at-home-grandpa with his grandson, Landon Cash.  He and his lovely wife, Susan, live in a brick house in town (where Landon steals the rubber kitchen gloves, too.)  You can send him a note at brotherjohn@ilovechurchcamp.com .