3 Without natural affection, trucebreakers, false accusers, incontinent, fierce, despisers of those that are good. ~   2nd Timothy 3:3 (NKJV) 
By Bro. John L. Cash
Whenever Susan and I are dressing Baby Landon, we can never find any socks for him to wear. We assumed this was just the natural consequence of living in a fallen world. I mean, when we were raising our sons, being unable to locate socks and shoes for them was just the natural state of the universe. We thought maybe the sock-monsters in the washer and dryer were eating them. Still, the problem seemed deeper than that. We kept buying socks, only to have them disappear.
A few weeks ago, the mystery was solved. The culprit was Eleanor, our tiny-indoor-Siamese-cat. And Eleanor's motivation for being a sock thief was pure. She thought the little infant socks were her kittens.
Eleanor was so concerned that we were suffocating her offspring that she learned to liberate them from Landon's sock drawer. (It was a Houdini-like effort worth witnessing.) And it's a rare moment indeed when we do not see the mama-cat carrying one of the tiny cotton garments in her relocation efforts. Upon moving the couch to retrieve a lost remote, Susan and I found no less than 42 tiny socks hidden there. (I guess she all her "kittens" were attending some sort of homeschool convention or something.)
Best of all was this week when I took this picture of her food dish. Eleanor is a good mother and wants to make sure her babies get enough dry-food to eat. It does make quite a mess, though, when she gives them a drink of water.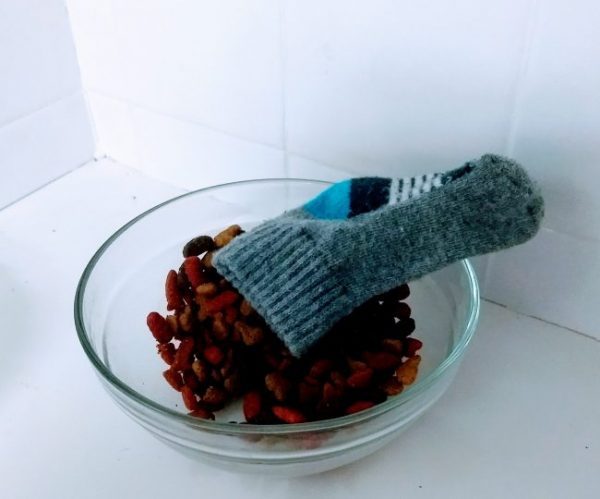 Even though Ellie has never had any real kittens, she still has a longing in her heart to be a good parent and nurture her offspring. I believe this is what the Bible refers to as "natural affection." Parents (even in the animal kingdom) have great love for their babies. St. Paul said that, in the end times, wicked people would grow worse and worse. And one of the first characteristics of these evil folks would be that they would be "without natural affection."
Every day in the media we hear examples of those who lack natural affection and are neglectful or abusive to their children. Fortunately for everyone, we see so many more examples of parents who lovingly care for their children. This is pleasing to God, a holy impulse that He has implanted in the hearts of all His creatures. The daily chores of life may seem trivial and somewhat thankless. But in doing them well, we fulfill the plan of our Heavenly Father and bring pleasure to the One who makes all things grow.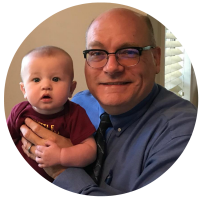 Dr. John L. Cash is the "Country Preacher Dad." He was raised in Stuttgart, Arkansas, and has spent the last 32 years being a country preacher in the piney woods five miles south of the little town of Hickory, Mississippi. He's a retired Mississippi public schoolteacher with grown sons, and is now a stay-at-home-grandpa with his grandson, Landon Cash. He and his lovely wife, Susan, live in a brick house in town (where Springtime has arrived.) You can send him a note at brotherjohn@ilovechurchcamp.com.