3 And not only that, but we also glory in tribulations, knowing that tribulation produces perseverance;
4 and perseverance, character; and character, hope.
5 Now hope does not disappoint, because the love of God has been poured out in our hearts by the Holy Spirit who was given to us.        
 ~ Romans 5:3-5  (NKJV)        
By Bro. John L. Cash
For years I've had retired people tell me, "I need to go back to work so that I can get some rest!"  I understand that adage now. I'm enjoying semi-retirement immensely, but I'm staying plenty busy.
I've come to realize lately that it is a rare thing for life to slow down for anybody–and that is the way that God wants it.  As long as we're here, the Lord makes sure that we have work to do. Our daily labor fills our lives with purpose. Besides, the Lord uses the work that we do on the Earth to carry out the will that He has in Heaven.
The Bible never says that God takes away all our problems, either. Trials build our faith in God and teach us to trust in Him. Striving to do our best in difficult situations makes us stronger and builds strength of character.
Instead, what God has promised us is that He will bless us in our labors and help us in our troubles. In life, He won't take away our striving. But in the end, He will take us to Glory.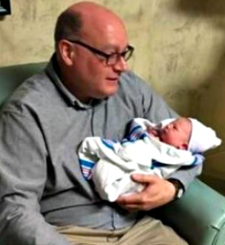 Dr. John L. Cash is the "Country Preacher Dad." He was raised in Stuttgart, Arkansas, and has spent the last 31 years being a country preacher in the piney woods five miles south of the little town of Hickory, Mississippi. (Until recently he had a desk-job at a public school, where he used to teach Latin on closed-circuit-television.)  He and his lovely wife, Susan, live in the parsonage next door to the Antioch Christian Church (where the children are presenting a musical at evening worship tonight.)  Their kids include Spencer (age 25), his wife Madeline (age 25), and Seth (age 22), and his wife Leanne (age 21). You can send him a note at brotherjohn@ilovechurchcamp.com .