26 For as the body without the spirit is dead, so faith without works is dead also.  ~  James 2:26  (NKJV)
By Bro. John L. Cash
Every summer I am the dean of a week of Bible Camp for elementary children. I try to plan a week packed with things that teach and inspire along with things that are a lot of fun. I'm always on the lookout for new ideas.
The other night I was thumbing through a "Jack and Jill" magazine from the 1950's. Inside it was a beautiful set of paper dolls—the kind you cut out with scissors, along with the doll clothes that stay on with folded tabs. I asked Susan if she thought this would be a craft the little girls at camp would enjoy. I was a little taken aback by the insightful answer she gave me.
"I don't know, John" she replied. "I'm not really sure kids do things like cutting out paper dolls anymore. Now they have 'apps' for that."
Of course, Susan is right. They DO have an "app" for everything now. To tell the truth, I've seen a computer-screen paper doll program before. It was fun. But I'm not sure it was an improvement over the real thing. You can hold real paper dolls in your hand and save them in an envelope to look at later.
After giving it some thought, I'm pretty sure we're going to do cut-and-paste paper crafts at Bible Camp this year. Maybe the kids won't like it as well as an iPad game. But they'll never know until they try the real thing. I want to give them that opportunity.
Hand-held electronic devices are a fact of life in our world. And it's OK to spend time doing some "virtual" things. But because there are LIVING people who need love, all of us need to spend less time in the "virtual" world and more time in the "real" world.
We need to pull our heads out of our thoughts (and our cell phones) so we can tune into the thoughts and needs of others around us. "Screen time" focuses our minds on ourselves and on the things of this world; what the world needs most is for Christians to focus their minds on the things of Christ.
So, have a conversation with someone you like this week instead of just pressing the "Like" button. Send a greeting card instead of a text. Watch a sunset with your child instead of watching your newsfeed. And don't just "cut-and-paste" your documents this week. Take time to do some paper dolls as well.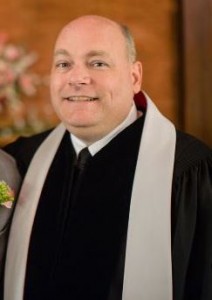 Dr. John L. Cash is the "Country Preacher Dad." He was raised in Stuttgart, Arkansas, and has spent the last 30 years being a country preacher in the piney woods five miles south of the little town of Hickory, Mississippi. (On week days has a desk-job at a public school, where he used to teach Latin on closed-circuit-television.) He and his lovely wife, Susan, live in the parsonage next door to the Antioch Christian Church (where the ground is very soggy today because of all the rain.) Their kids include Spencer (age 24), his wife Madeline (age 24), and Seth (age 21). You can send him a note at brotherjohn@ilovechurchcamp.com.