11 "If you then, being evil, know how to give good gifts to your children, how much more will your Father who is in heaven give good things to those who ask Him!  ~  Matthew 7:11  (NKJV)
By Bro. John L. Cash
The house that we live in really IS the "Little House in the Big Woods." Our backyard is a small clearing in the midst of a huge, dense, Mississippi forest. As a result of that, we have all sorts of wildlife living nearby. Two nights this week we stepped out on our patio to see an opossum snacking on some leftover cat chow. To us, that's just "business as usual."
Well, one night at supper time (about six months ago) I heard something scratching on the back door. Upon opening it, I found a tiny yellow and white tom cat. He was crying and crying because he wanted something to eat. He was not a pet; he was a feral cat who had been born in the woods. We only had indoor cats back then, and there was no cat food outside. So I fixed him a bowl of "9 Lives" and set it on the back step for him. He was much obliged.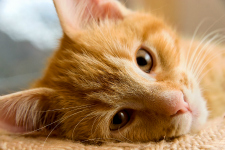 As you might imagine, this became a process that we repeated every day. The feral cat who scratched on the door and cried became a pet. We named him "W.B." which is short for "Whiny Boy." W.B. got shortened to "Dub" and the name fits him very well. He's a sweet and gentle cat. He plays with the children at the church and lets them pet him.
I wonder how Dub had enough sense to scratch at our door. Maybe he saw our indoor cats and reasoned that they were well fed. Maybe he just thought that the Cashes looked like a good class of people.
Whatever his motivation, Dub is a very smart cat. In fact, he's smarter than most people because he knew to ask for what he needed. He realized that he had nothing to lose. The worst thing that could happen would be that he would be turned down. And it was a person (that the Bible describes as "evil") who came through for him.
Why are we not smart enough to ask our Heavenly Father (who is loving and good) for the things that we need?
Is there something that you are lacking in your life? St. James writes in his epistle, "You have not because you ask not." You would do well to put your faith in the living God, and ask Him to supply your needs.
After all, there's no reason to be out-done by a cat. 🙂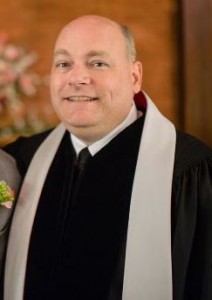 Dr. John L. Cash is the "Country Preacher Dad." He was raised in Stuttgart, Arkansas, and has spent the last 30 years being a country preacher in the piney woods five miles south of the little town of Hickory, Mississippi. (On week days has a desk-job at a public school, where he used to teach Latin on closed-circuit-television.)  He and his lovely wife, Susan, live in the parsonage next door to the Antioch Christian Church (where Mr. Dub's wife, the tabby-cat "Sheba," is expecting again.)  Their kids include Spencer (age 24), his wife Madeline (age 24), and Seth (age 21). You can send him a note at brotherjohn@ilovechurchcamp.com.