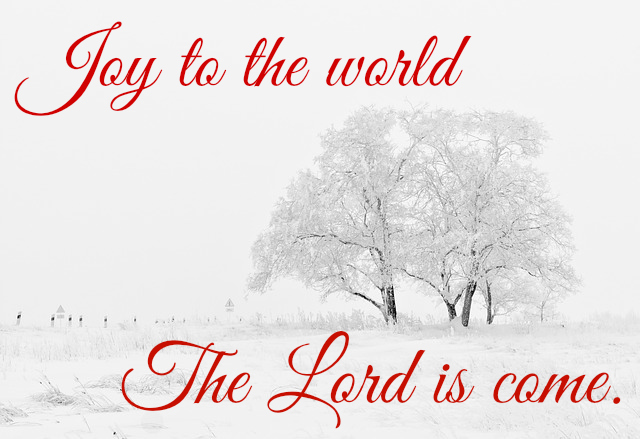 10 Then the angel said to them, "Do not be afraid, for behold, I bring you good tidings of great joy which will be to all people."  Luke 2:10 (NKJV)
By Bro. John L. Cash
Every once in a while, in the life of every human being, our Creator pulls back the curtains of Heaven and in our lives allows us to see a glimpse of His glory.  And in those moments we feel joy. I'm not talking about run-of-the-mill daily happiness,  and I'm not referring to everyday fun or common amusement. I'm talking about pure, unadulterated joy—those moments when our hearts can scarcely contain the light God has placed within them: JOY.
Now, you don't need me to draw you a chart because I'm sure you've experienced this. I have no idea when you experienced this or what circumstances brought it about. The Bible teaches that each heart has its own sorrows and joys that nobody else can understand. But at some point, God has allowed you to have joy in some moment of your life. I'd love to sit down with you so you could tell me about that time….
Something I've come to realize is that so many of my truly joyful memories are connected with Christmases that I've celebrated throughout my life. Maybe Heaven is closer to Earth at Christmastime; it kind of seems that way sometimes.
Sometimes when I see a Kodak picture it makes my heart yearn and ache. I was with my loved ones and it was purest joy. I want to climb inside the photograph. I want to live inside the memory. Surely the kingdom of Heaven is like that.
The Christian writer, C. S. Lewis, wrote that the life that we are living now is the "veil of tears." We only experience joy from time to time and at odd moments that can't be replicated. But Heaven will be different. Lewis said, "Joy is the serious business of Heaven." That is amazing.
I believe joy is a very important thing. It is through joy that we lead our children to Heaven. When we touch their lives with caring and love and attention, at some point the children are bound to feel joy. And this feeling of joy will make them long for Heaven. And because of this longing and yearning, they will believe on the Saviour, Jesus.
We've got serious work to do this Christmas, don't we?
So spread His love. And share His joy.
And have a very Merry Christmas.
Dr. John L. Cash is the "Country Preacher Dad." He was raised in Stuttgart, Arkansas, and has spent the last 29 years being a country preacher in the piney woods five miles south of the little town of Hickory, Mississippi. (On week days has a desk-job at a public school, where he used to teach Latin on closed-circuit-television.)  He and his lovely wife, Susan, live in the parsonage next door to the Antioch Christian Church (where joyful Christmas plans are in the works.)  Their kids include Spencer (age 23), his wife Madeline (age 23), and Seth (age 20).