7 ¶ But we were gentle among you, just as a nursing mother cherishes her own children. ~ 1 Thessalonians 2:7 (KJV)
By Bro. John L. Cash
Sometimes I write a column that strikes a chord with people. Last week's devotional fit into that category, based on the response I received in my inbox. There really are so many people today who have a loving concern for the safety and well-being of children. And the older I get, the more I'm convinced that the best thing God can give any of us are vivid memories of what it's like to be a child. By remembering what it feels like to be a child, we're able to supply the physical, mental, psychological, and spiritual things all children need.
Decades ago, I saw a situation in a family that worried me deeply. I met parents who allowed their 3-year-old son to watch horror movies and R-rated movies filled with all sorts of sex and violence. It was their belief that by exposing their son to these upsetting scenes they were helping him be able to "stand" the bad situations he would be faced with as he grew up.
They didn't ask my opinion, but I would have told them that their thinking was absolutely wrong. I'm not saying it was cause and effect, but the boy has since grown into adulthood and has been in need of counseling and medications since he was a teenager.
The steady diet of media sleaze his parents allowed him to feed on didn't help him. Our task as parents is NOT to throw our kids into "the lion's den." Our job is to shield and defend them from the full brunt of the ugly realities of life until they're old enough to wield the sword and shield of the Spirit on their own.
The late Fred Rogers (of "Mister Rogers' Neighborhood") said that the kind of toys we give our children shows them the sort of world we're expecting them to build. (Think about that for a while. If he was right, "Grand Theft Auto" is a very scary set of instructions.)
He also said there are limits to how much violence children are able to cope with. Here's a wonderful 45-second video filmed in 1968 of the late Mr. Rogers that you need to watch:
This past week there was a headline that said today's teenagers are more anxious and depressed than their parents. It's no wonder — look at the world we're handing over to them!
This week, let's use every resource we have to point our little ones to the beauty of life and love in God's world. Let's "stand in the gap" to shield them from the sadness and violence of Satan's schemes. Most of all, let's teach them to look to the Saviour so that they'll have Him as their constant Helper and Guide.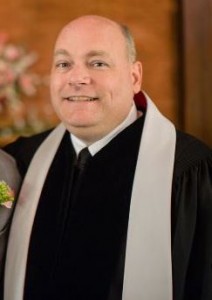 Dr. John L. Cash is the "Country Preacher Dad." He was raised in Stuttgart, Arkansas, and has spent the last 28 years being a country preacher in the piney woods five miles south of the little town of Hickory, Mississippi. (On week days has a desk-job at a public school, and until recently taught Latin on closed-circuit-television.) He and his lovely wife, Susan, live in the parsonage next door to the Antioch Christian Church (where life out in the country has certain advantages for children.) Their kids include Spencer (age 22), his wife Madeline (age 22), and Seth (age 19).