23 Then He said to them all, "If anyone desires to come after Me, let him deny himself, and take up his cross daily, and follow Me. ~ Luke 9:23 (NKJV)
By Bro. John L. Cash, "Country Preacher Dad"
I am going to reveal a prejudice of mine today. Tattoos are not my favorite things. I have a great number of friends and loved ones who have chosen to decorate themselves in that way, and I love them with all my heart. But I've just never wanted a tattoo for myself. And I didn't want my sons to get any either.
You have to understand that a lot of my bias has to do with the fact that I was born in the Deep South over 50 years ago. Also, I was raised surrounded by older people. I'm a product of my generation. One of the local girls told me that the night she came home with her first tattoo, her step-dad (who is my age) took one look at it and quietly said, "You know, Grandpa always said if you got a tattoo you'd go straight to hell." He didn't condemn her, mind you. He just quoted what Grandpa said. But admit it. If you were raised with that mindset, it might put a damper on things.
I bet you can already figure out where this story is headed. Yes, both of my sons have tattoos. When they were little, I used to tell them, "If you ever get a tattoo, I'll take my pocketknife and cut it out." Of course, everybody knew that this was bluster and bluff. But it worked. At least I thought it was working. It seemed like it was working until they had birthdays and were no longer minors. Something that I didn't take into account is that when your kids turn 18 they can get as many tattoos as they want, and you can't do anything about it.
And to be truthful, if my boys have to be tattooed, their choices of body-art are not that bad. On his shoulder, Spencer has a tattoo of a sailing ship. The ship has a cross on the main sail. He had the artist copy this picture from Luther's Shorter Catechism, where the theologian uses the ship as a representative symbol of the Church. Spencer told me, "I told the tattoo artist not to make the ship too fancy or pristine. The Church is a ship that has been through a lot of storms. But the Church is a good ship—and she will carry us safely across to the other shore." It's hard to argue with that.
Later on, Spencer got another small tattoo over his heart. This one consists of three words: "Here I Stand." These were the words that Luther said when he was told to burn the books that he had written that said that the Bible is all-sufficient. He was told if he did not recant, he would be put to death. Instead he said, " I cannot and will not recant anything, for to go against conscience is neither right nor safe. Here I stand, I can do no other, so help me God. Amen." Again, if you have too get a tattoo, that's not too bad of a one to get. In my book, it's a lot better than a "Peace Frog."
Two weeks ago, Seth got a tattoo on his shoulder. It's a picture of an Arkansas Razorback. I think there are a number of virtues associated with getting this particular tattoo: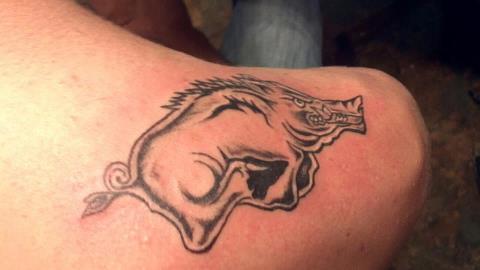 1) It is coverable with a T-shirt, which makes for easier employment by a picky boss. (Spencer's tattoos fall into this category, too.)
2) I take it as a compliment to our family. Seth was born and raised in Mississippi. The only Razorbacks he knows are his mother and me, our loved ones and friends. His loved ones from Arkansas must have impressed him as being a good class of people.
3) The tattoo artist really did a nice job with the artwork.
4) Last but not least, having a Razorback tattooed on one's back seems like a nice thing to do for the Hogs. They can probably use a friend or two right now.
I've been raising kids for over 20 years, and my views have changed quite a bit with the passing of time. I guess what I want more than anything else is for my sons to love the Lord. So if there is love for Jesus in their heart, I can overlook the ink that is on the skin that covers that heart. And I'm not so worried about the pictures on my sons' shoulders either. I just hope they will use those same shoulders to take up their cross daily to follow their Saviour.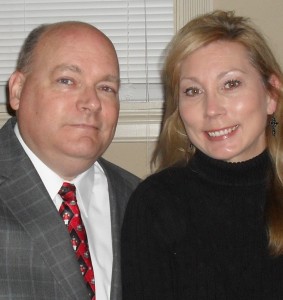 Dr. John L. Cash is the "Country Preacher Dad." He was raised in Stuttgart, Arkansas, and has spent the last 26 years being a country preacher in the piney woods five miles south of the little town of Hickory, Mississippi. (On week days has a desk-job at a public school and teaches Latin on closed-circuit-television.) He and his lovely wife, Susan, and his sons, Spencer (age 21) and Seth (age 18) live in the parsonage next door to the Antioch Christian Church (where the holes in the [previously] pierced ears of the Preacher's sons have also grown up.) He would love to hear from you in an email sent to countrypreacherdad@gaggle.net.