7 ¶ For many deceivers have gone out into the world who do not confess Jesus Christ as coming in the flesh. This is a deceiver and an antichrist. 2 John 1:7 NKJV
By Bro. John L. Cash, "Country Preacher Dad"
When I was a little boy, as Christmas drew near I loved to think about Santa Claus and what he might bring to me. But now that I'm older, I often think about Saint Nicholas as the Yuletide season draws near. St. Nicholas was a real, historical person who was a bishop in the early church and a very good man indeed.
Perhaps you've heard the story of how he had compassion on the three poor maidens who were unable to get married because their impoverished father could not provide a dowry for them. Bishop Nicholas tossed handfuls of gold into their home through an open window (or maybe the chimney), and the coins landed in the girls' stockings which had been hung in front of the fireplace to dry. The next morning when they got dressed, the girls were thrilled to find that they were no longer cursed to lifetimes of spinsterhood. (And in commemoration of this event, to this day, we still all eat candy out of our socks on Christmas morning.)
I love that story and the tradition of hanging up Christmas stockings for St. Nick to fill. But there's another story that's much more important, and I love that story even more. In A.D. 325, an ecclesiastical council was held to deal with a controversy that had arisen in the Church. A bishop by the name of Arius was teaching that Jesus Christ was not the only-begotten Son of God, but a creature, a mere man, who had been created by God the Father. Arius stood before the assembly and defended his argument at great length. Nicholas was one of the bishops in attendance at the assembly listening to Arius. The longer that Nicholas listened, the angrier he became at the blasphemy that Arius was expounding. Finally he had heard enough. Nicholas stood up  walked over to Arius. He then slapped him across the face.
Tradition tells us that Nicholas was imprisoned for his rash action but later was exonerated. And Nicholas' views about the divinity of Christ were added to the Nicean Creed, which is recited each week in many churches. While I don't approve of violence, I think that the good bishop was entirely justified in his anger. A lot of things in Christianity are matters of opinion, but some things are essentials. Believing that Jesus Christ is God-in-the-flesh is one of the essentials. Without faith in that fact, you don't have salvation because you don't have a Saviour.
So this Christmas, let's invite Santa Claus into our homes to help us celebrate this happy season. But let's make sure that Saint Nicholas is invited, too. There's a good chance that Santa will bring us the present we've been wanting to find under the tree. But St. Nick will make sure that we remember that the Babe in the manger is also the Lord of our lives.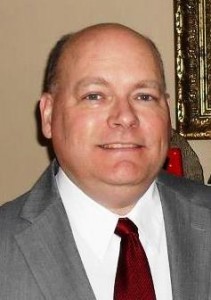 Dr. John L. Cash is the "Country Preacher Dad." He was raised in Stuttgart, Arkansas, and has spent the last 27 years being a country preacher in the piney woods five miles south of the little town of Hickory, Mississippi. (On week days has a desk-job at a public school and teaches Latin on closed-circuit-television.) He and his lovely wife, Susan, live in the parsonage next door to the Antioch Christian Church (where St. Nicholas Day was last Thursday, December 6th.) The Cashes have two sons, Spencer (age 21), and Seth (age 18), who live in the parsonage, too, except when they are away at college. He would love to hear from you in an email sent to countrypreacherdad@gaggle.net.