4 But when the fullness of the time had come, God sent forth His Son, born of a woman, born under the law, 5 to redeem those who were under the law, that we might receive the adoption as sons. Galatians 4:4,5 (NKJV)
By Bro. John L. Cash, "Country Preacher Dad"
If you're like most moms I know, the beginning of the Christmas season brings with it a mixture of diverse emotions — a combination of joy mingled with anxiety. The joy comes from the prospect of celebrating our Saviour's birth and all the happiness which that brings. The anxiety comes from the expectations we strive to meet and the work it'll take to meet them. Sometimes it all can feel overwhelming.
Today I want to share a thought I had — an idea I think will help us all have a happier holiday season. You're going to have to bear with me today. If you're a frequent reader, you know I get my inspiration from unusual places. Today's epiphany came to me when I was shopping in Dollar General, looking for a sack of dog food.
Have you looked at all the kinds of dog food they sell nowadays? There's dry food that looks like a delicious Irish stew — chunks of sirloin surrounded by green peas and carrots. There are sacks of dog chow that have five different kinds of pellets that taste like five different kinds of meat. (It's called "mixed grill." Sounds like what the Cashes do on the 4th of July.) The newest addition to the dog food line is a brand that has "hidden treasure inside." Fascinating.
Here's the thing I believe. The dog food makers don't make dog food based on what dogs like. They make dog food that looks like what dog owners like. For instance, I like Irish stew, a mixed grill barbeque and cereal that has surprises in it. But I've never had a dog that cared about any of those things.
My country-barking-yard-dogs have always delighted in things that are dead and smell bad. One of the funniest memories Susan and I have is of our dog, Petunia, who killed a rabbit when our boys were little. She chased the boys around for a week, trying to give the rotting carcass to them as a token of her gratitude. I kept hauling the dead bunny off, but she kept finding it and bringing it back. In my mind's eye I can still see the boys shouting, "Aiiiiiiih, Dad, help us, please, it stinks!" as Petunia chased them, trying to deliver "The Gift that Nobody Wanted."
My dogs also have loved anything that's disgusting. They would prefer to pull the wires out of a road-kill armadillo (or opossum) than have sirloin and baked potato. I remember a time when our pups had a very happy Valentine's Day on which I found them joyfully munching a summer-sausage our neighbor had tossed out on New Year's Day.
That's how I know the pet food makers are designing dog food based on what people think is delicious. If they designed dog food based on what dogs love, people would never buy it. It would be too nauseating. What we believe is wanted, and what is actually wanted are two separate things.
The same principle applies to the Yuletide Holiday. There's often a big difference between what we think people want and what they really want. As a mom you're confronted with what the advertisers tell you Christmas should be, what you imagine in your heart that Christmas should be, and what your kids really want. Contrary to popular belief, these things are rarely the same. It's been my experience that it doesn't really take much to make people very happy, and it's the little things that mean the most.
When Seth was a tiny boy, I asked him what he liked best about the Christmas he had just celebrated. I'll never forget his answer: "My Handcuffs." I had picked the toy handcuffs up at a dime store at the spur of the moment to put in his stocking. They cost $1.99.
So, dear mamas, let's pause at the beginning of this good holiday season to think about what's most important. I believe that if we pause and ask the Lord to guide us into what is most pleasing to Him, He will do so. Perhaps He will lead us to do fewer things but to enjoy those things more. This Christmas, let's aim for the joy — not for the jumble.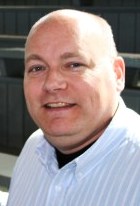 Dr. John L. Cash is the "Country Preacher Dad." He was raised in Stuttgart, Arkansas, and has spent the last 26 years being a country preacher in the piney woods five miles south of the little town of Hickory, Mississippi. (On week days has a desk-job at a public school and teaches Latin on closed-circuit-television.) He and his lovely wife, Susan, and his sons, Spencer (age 20) and Seth (age 17) live in the parsonage next door to the Antioch Christian Church (where the Preacher is looking forward to a lovely (but lower-key) Christmas.) He would love to hear from you in an email sent to jcash@scott.k12.ms.us.