30 So when they were sent off, they came to Antioch; and when they had gathered the multitude together, they delivered the letter.
 31 When they had read it, they rejoiced over its encouragement.  Acts 15:30,31 (NKJV)
By Bro. John L. Cash, "Country Preacher Dad"
Last week I got an email from Gwen Rockwood telling me that some of you nice folks had left me kind comments on Facebook. As much as I wanted to respond to leave a note to thank you, I wasn't able to. About once a week something like this happens to remind me that the rest of the (modern) world can't possibly understand our plight. When I chose the name "Country Preacher Dad," I wasn't kidding around. My family and I live in the last of rural America. Allow me to elaborate.
First of all, we really and truly live out in the country. Our house is 5 miles from our nearest town, Hickory, Mississippi. According to Wikipedia, the 2000 census reckoned that the population of Hickory, Mississippi was 499 people. The town of Hickory has two gas stations, a post office and a furniture store. It's a nice little town and a sweet little town, but it is not a bustling metropolitan area.
Also, I'm sure that we are rural because we have abysmally bad Internet service. When I first started doing email back in 1994, I had a dial-up internet connection. Seventeen years later, I am still connecting with the same (very slow) dial-up connection. Someone from the phone company said that there is no way to speed up our dial-up connection because our phone line goes through the boxes on prehistoric telephone poles. Instead of having a transistorized switch, our boxes have only a primitive copper coil. We are not complaining, though. We're just glad we don't have to climb the pole to use the phone like the characters on "Green Acres."
One time we had a man from the former Soviet Union as a visitor to our house. He attempted to use our phone line to check his email but finally gave up on it. He said he had a better phone line at his house in Ukraine.
At the beginning of this year, the DSL trucks came to run Internet cable throughout the surrounding rural areas. We were thrilled when we saw them approaching and looked forward to the days of high speed Internet at home. Unfortunately, they never made it to our house. I guess we're so far out that they ran out of wire. We thought about getting satellite internet, but our neighbor talked us out of it. He said that his worked so poorly that the aggravation would make us lose our religion. Faith is important to our family. We decided to stay with dial-up.
Because of these hurdles (and others), I do most of my emailing and such on the internet system at school or at a public library. Our school Internet has content filters that block social networking sites (along with a number of other good and useful things), and there is always a line of people waiting for computers at the library. Suffice it to say that I don't get to communicate online as much as I would like to.
I tell you all that to say this: Thank you for reading my column. And even though I am not always able to respond to your notes, thank you for your words of encouragement. In the stressful times in which we're living, encouragement is what we all need. Lately, I've been helped so much when others have offered a kind word. It's made me realize the power that our words have — and it's made me want to help strengthen others by the things that I say. Don't you want to do the same for the people around you?
Speaking of things that are encouraging, we've had a lot of excitement in our little town this month. Hickory, Mississippi just got its first nationally-franchised-discount store. We're thrilled to have our new "Dollar General." Everybody shops there, and business is booming. Not only has the new "Dollar General" changed our shopping habits, it's also changed our topics of conversation. I laughed out loud when my friend greeted me there last week: "Hello, John. Welcome to The Hickory Mall!"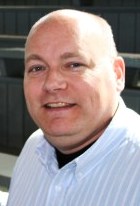 Dr. John L. Cash is the "Country Preacher Dad." He was raised in Stuttgart, Arkansas, and has spent the last 26 years being a country preacher in the piney woods five miles south of the little town of Hickory, Mississippi. (On week days he works at a public school.) He and his lovely wife, Susan, and his sons, Spencer (age 20) and Seth (age 17) live in the parsonage next door to the Antioch Christian Church (where you can often see members of this family standing out in the front yard with their cell phones trying to get a signal.) He would love to hear from you in an email sent to jcash@scott.k12.ms.us.