By Andi Douglas, nwaMotherlode.com beauty editor
I woke up Saturday morning and was convinced I was having an allergic reaction to something because my face was swollen (true and pathetic story).
But after a Benadryl and a good hard look at myself I admitted the only thing I was having a reaction to was the 6 pieces of pecan pie I'd had in the last 3 days. Not to mention turkey, potatoes, wine and piles of cranberry sauce that added on a few pounds, apparently all in my face.
Luckily, we enjoyed the holiday out of town so I don't have to worry about leftovers tempting me, but I need help breaking the cycle of sweets and losing the weight before round two hits. Christmas candy is kryptonite to my skinny jeans!
I came across a 3-day quick weight loss plan on Yahoo Health by Julie Upton, a registered dietitian, to try to regain control of my diet. It starts with 3 steps to reprogramming your body.
Step 1: Break the sugar cycle by eliminating desserts for at least 3 days. New studies are showing that sugar can be addictive by "hijacking" the same parts of your brain that are affected by drugs and alcohol. "The sugar hooks you, while the fact piles on the pounds," says Upton.
Step 2: Resize your stomach without feeling like your starving by replacing the high calorie foods you've been indulging in with smaller portions of high-fiber foods such as fruits, vegetables (candied sweet potatoes don't count) and whole grains. Even though I've been eating more than normal, I am starving the next day because my fullness cues have become desensitized, so a few days of conscious portion control will reset the "stomachs system of stretch receptors".
Step 3: Cut down on cocktails to eliminate 7 calories per gram, that pile on top of food calories without helping you feel full. Low-calorie drinks, like tea and flavored watered can lift metabolic rate and offer healing antioxidants.
These 3 principles are the basis for a 3-day meal plan provided by Upton to get you back to your normal weight. To cut the craving for sweets, she eliminated most refined sugars. To keep your stretch receptors happy, Upton features plant-based foods that are rich in fiber. And instead of high-calorie cocktails, she gives you delicious low- or no-cal drinks. I included the first day, which even I think looks doable and I am a notoriously picky eater. The full meal plan is available here.
Day 1 Meal Plan
BREAKFAST:
Egg white-veggie scramble: 1/2 c egg whites (or 4 egg whites) with 1 c chopped mixed vegetables (tomato, bell pepper, baby spinach leaves), prepared with cooking spray
1 slice toasted whole grain bread or 1/2 whole wheat English muffin with 2 tsp 100% fruit spread
1 c fat-free Greek-style yogurt Coffee or tea with 1/4 c fat-free milk
SNACK: 1 sheet graham cracker with 2 tsp natural (no added sugar) peanut butter
LUNCH:
Hummus-veggie pita sandwich: 1/2 whole grain pita spread with 1 tsp deli mustard and 1 Tbsp hummus, then stuffed with vegetables (bell peppers, sprouts, lettuce, tomato) and 2 slices avocado
1 medium orange or 2 tangerines
Unsweetened herbal tea (hot or iced) with cinnamon stick
SNACK: 1 piece fresh fruit or 1 c mixed vegetables with 2 tsp oil and vinegar dressing
DINNER:
3 oz grilled salmon brushed with citrus glaze while cooking
Citrus glaze: 1 Tbsp each orange juice, honey, and reduced-sodium soy sauce
1/2 c cooked brown rice prepared with 1 tsp olive oil
1 c cooked winter squash, broccoli, or asparagus
DESSERT: 1/2 c fat-free plain Greek-style yogurt with 2 tsp 100% fruit spread
Now, step away from the pumpkin pie and get motivated! Only 26 more days until fudge, I mean Christmas!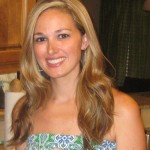 Have a question for Andi Douglas, beauty blogger and fellow mama of three? Andi welcomes your questions and feedback to Beauty Buzz. E-mail her at mamas@nwaMotherlode.com.