Andi's 4 Beauty Must-haves: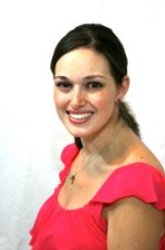 Lansinoh brand Lanolin ($8.34) for my lips: After reading in In Style that Angie Harmon uses the nipple cream on her lips every day, I had to give it a try. I happened to have some, thanks to over-zealous nursing from Lexi, and was eager to find another use.
After getting past the "ick factor", like the first time I used hemorrhoid cream on my thighs, I realized it worked really well. It stayed on all night and in the morning my lips looked fuller and had no lines. I was an instant convert, but remember, a little goes a long way!
Victoria's Secret Very Sexy Lip Gloss in Wet ($12): The color is perfect for a neutral lip but also blends well with a lipstick when I want something darker. This is the only lip gloss I have found that is not too sticky and doesn't have any flavor to it. If I wear any gloss with a sweet taste, I compulsively lick my lips, which makes my chapped lips even worse.
N.Y.C. Browser Brush-On Brow Kit ($3.99): This is my favorite cheap find ever! There are two sides to the little box, one with a clear wax and the other with a dark brown shadow. It comes with a little applicator brush and tiny pair of tweezers, so it is perfect for on the go touch-ups. The shadow makes a much softer line than a pencil and the wax helps keep my massive eyebrows in check, especially when I have gone way past waxing time. Bonus: I use the shadow for one of my favorite make-up tricks. Apply a little to the top of your collarbone to create a shadow and you look instantly thinner.
Estee Lauder Artists Eye Pencil in SoftSmudge Black ($19): I had always used drug store eye liner in waterproof formulas because my sensitive eyes are always watering, but they were hard to apply and always broke, so when I got this pencil as a free gift I tried it out and was hooked. It lasted longer than any of the other brands I tried and didn't smudge all over my face. The smudging tip on the end was ideal for creating the smokey eye I can't get enough of. Even though it costs more than I usually spend, it lasts a long time, so long, in fact, I can't remember the last time I bought it.
Andi Douglas is a local mom of two and the ruling make-up queen at nwaMotherlode. E-mail your Ask Andi questions to her at mamas@nwaMotherlode.com and the answer may be featured in her Beauty Buzz column.