Walton Arts Center and some great partners have produced a super fun play that uses experiential theater techniques, music and puppetry to meet Common Core State Learning Standards. No small feat!
The play, called Bear State of Mind, includes Arkansas history and social studies curriculums. It's for kids in kindergarten through 2nd grades and helps students learn about Arkansas.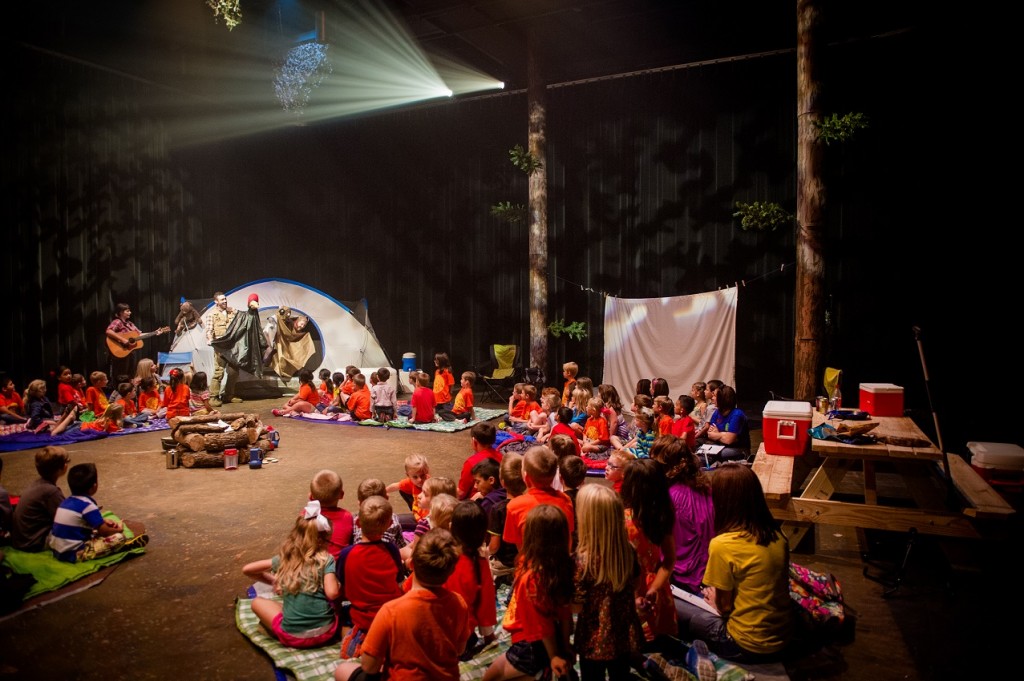 It turns out they learn more than the most obvious when at a play like this.
Walton Arts Center recently revealed new research findings from the University of Arkansas on the long term benefits of live performance for students.
The study surveyed 2,000 7th-grade students and found that those who took field trips to Walton Arts Center showed positive, statistical difference in 1) desire to attend and participate in arts and cultural events and 2) levels of empathy and tolerance.
The UA conducted a similar study for Crystal Bridges to explore the short term impact of cultural experiences. Together, these two experiments support a consistent and important finding: culturally enriching field trips have significant short and long-term benefits for students. For a synopsis of the recent WAC study, visit EducationNext.
Bear State of Mind has been in development for three years and over the past few weeks, Walton Arts Center has previewed the performance to over 2,000 local students with the goal of reaching more students in the future. Walton Arts Center has been serving local schools for 22 years and last year alone, more than 50,000 students experienced the arts through programs like the Colgate Classroom Series and Digging Up Arkansas. Out of the success of Digging Up Arkansas, which reached nearly 31,000 3rd-5th grade students all over Arkansas, the idea for Bear State of Mind was born.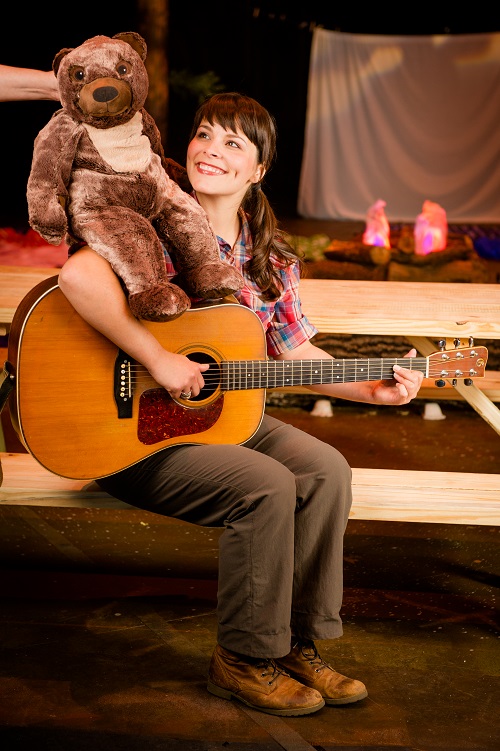 About Bear State of Mind
Walton Arts Center, along with partners Trike Theatre, NWA playwright Ashley Edwards and songwriter Shannon Wurst (pictured above), produced Bear State of Mind. The story is about Bear, who travels through three of Arkansas' geographic regions and meets new friends and uncovers native wildlife, folklore and state symbols. The unique staging of the play makes the most of 5-8 year olds' natural tendency to explore their surroundings; seating them on sleeping bags under a tree canopy in a "Magical Forest" to help facilitate their physical participation in the performance.

Quotes about Bear State of Mind from local teachers:
"I have always enjoyed Walton Arts Center performances, and this was the best – aligned with expectations for student learning."  Delia Gorder, Root Elementary, Grade 1
"Fantastic and engaging show.  Relevant to our kids' lives and super interesting.  Lots of details and hidden surprises. Our kids loved it!"  Ms. Ogle, Washington Elementary, Grade 1
Congrats to Walton Arts Center and friends for producing such an awesome play — and thank you for all you do for children (and their grown-ups) in Northwest Arkansas!