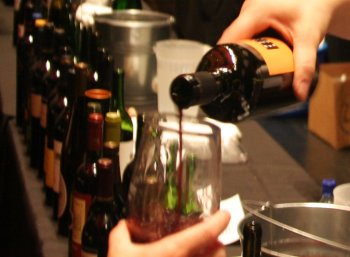 Editor's Note: Winner will be chosen at 4 p.m. today (June 3). Good luck!
If Welch's is the finest label you've had chilling in your refrigerator lately, here's your chance to sample more than 400 wines from around the world — FREE! We're giving away a coveted ticket to attend Walton Arts Center's Art of Wine Grand Tasting event scheduled for Friday, June 5, at 7 p.m. ($85 value).
The evening will include live entertainment by the Ben Harris Trio and DJ Soulfree; a unique silent auction featuring signed show posters, special wines and other items; and food from more than a dozen of the region's best restaurants.
How to enter: Just post a comment below telling us your favorite way to unwind (A glass of wine and a bubble bath? A good book? Taking a hike?)
If you want to find out more about the event or to buy tickets to the 9th annual event, click here and go to the Walton Arts Center site. You may also call the box office at 479-443-5600.
Other great Art of Wine events:
The Winemaker's Dinner, Thursday, June 4th, 6 p.m.
The Wine Lover's Brunch, Saturday, June 6th, 11 a.m.
NEW! Premier Tasting, Saturday, June 6th, 7 p.m.
The Art of Wine Festival is Walton Arts Center's biggest fund-raising event. Proceeds support the center's award-winning arts learning programs for schools and teachers.
Good luck, mamas!