April 2022 Calendar of Events for Northwest Arkansas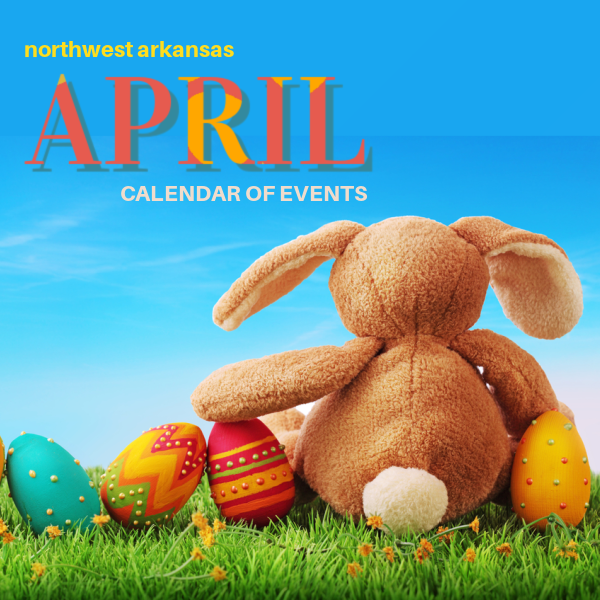 Happy April, mamas! Here comes Peter Cottontail! Make a plan this month with our roundup of some of the best family events happening across Northwest Arkansas.
First Friday: Run Bentonville
First Friday returns on the Bentonville Square.
Date: April 1
Time: 11 a.m. to 9 p.m.
Location: Bentonville Square
Sip & Sing Events, Tontitown Winery
All seating is first come, first served. No reservations or tickets required. The first live Sip & Sing music performance will be April 1. Sip & Sing events are currently planned through June 4 at the winery, which now offers food options made in house. No outside food or drinks permitted.
Date: Friday, April 1
Time: Music will go from 6:30-9 p.m.
Location: Tontitown Winery
Read, Ride, Run
Community members are being invited to read, ride their bikes, or run all in support of the Elkins Public Library. The virtual event begins April 1 during the Friends of the Elkins Public Library's Spring Book Sale. Participants do not need to live in the Elkins area to participate. This first-time event invites participants to seek sponsors to donate a certain amount per minute for each activity (reading, riding their bike, or running). Donors can also pledge to donate a one-time amount. Proceeds will be used to support the library's summer programs.
The virtual event begins April 1 and ends June 3, when all logs and money are due. Participants can pick up their packets during the sale on April 1-2 or register online at friendsofepl.elkinsar.org. Logs and money are due by 6 p.m. on June 3. Winners will be announced June 6 and prizes are available for pickup on June 7 at the Library.
The kickoff coincides with the Friends' semi-annual book sale. The public is invited to shop from 10 a.m. to 6 p.m., Friday, April 1. The sale concludes Saturday when the sale will be open 10 a.m. to 2 p.m. All books will be 50 cents until noon on Saturday when they become $2 per bag.
Date: April 1
Time: See above
Location: Elkins Community Center
Cookout & Ice Cream Social
Autism Involves Me has partnered with AIM Clinics of NWA to host an Autism Celebration Cookout and Ice Cream Social. Citizens Park features a fenced-in inclusive playground. There will be food and a bounce house. Bring your lawn chair or a blanket to sit on for eating.
Date: April 2
Time: 11:30 a.m. to 1:30 p.m.
Location: Citizens Park, Bentonville
Monster Truck Insanity Tour in Springdale
The Monster Truck Insanity Tour will turn the Parsons Arena into a BATTLEGROUND with one HUGE show on Saturday, April 2nd!! Don't miss this INSANE lineup of MONSTERS as they compete in Insanity style two wheel skills, heads up battle bracket racing, and insane high flying, mud flinging freestyle!
Date: April 2
Time: 7-9 p.m.
Location: Parsons Stadium, Rodeo of the Ozarks
Spring Fest, Thunder Mountain Ranch
Egg hunt, horse rides, petting zoo, crafts and games. Kids 4 and under free (and family group rates offered).
Date: April 9
Time: Noon to 5 p.m.
Location: Thunder Mountain Ranch, Fayetteville
Opening Day at True Colors Farm by PerspectAbility
True Colors is Northwest Arkansas' first You-Pick Tulip Farm. The farm brings the community together in a beautified space and in support of PerspectAbility's vision and mission, which is to support and include neurodivergent youth and adults in our community. Admission is $5 per person (ages 4 and under are free) and $2 per picked tulip.
Date: April 8
Time: 10 a.m. to 6 p.m.
Location: True Colors Farm, Centerton (address is 13225 W Tycoon Rd, Bentonville)
Touch a Truck with the Easter Bunny
The Benton County Sheriff's Office will be hosting a touch a truck event with the Easter bunny. The SWAT trucks will be there, along with the motor unit, and K9 unit for children to interact with.
Date: April 9
Time: 9-11 a.m.
Location: The Benton County Sheriff's Office
Easter at War Eagle Mill
There will be an egg hunt outside at 1:30 sharp with more than 3,000 eggs. The Café will be offering a special Easter lunch from 11 a.m. -4 p.m. Local Artist Deborah Billings will be creating a live Easter drawing. Parking limited.
Date: April 9
Time: 9 a.m. to 5 p.m.
Location: War Eagle Mill, Rogers
Arkansas Black Music Expo
Music Moves presents the Arkansas Black Music Expo, a two-day event celebrating Black/African American culture in Springdale at The Jones Center for Families. The expo will feature musical performances by Grammy nominees Carl Thomas and Kirk Whalum, with additional regional artists scheduled throughout the event. Attractions for children and food trucks will be on site as well. The Arkansas Black Music Expo is a family-friendly event free to the public, sponsored by the Tyson Family Foundation, the Walton Family Foundation, and The Jones Center for Families.
Music Moves is committed to educating and engaging the community by making high-quality performances of Black music accessible to everyone. The nonprofit partners with local organizations to bring live concerts to the community throughout the year and has recently produced and distributed curriculum showcasing Black cultural influence in the arts to music teachers in NWA.
Date: April 15-16
Location: The Jones Center, Springdale
Busy Beavers at Osage Park
Come learn about the master planners of the Osage Park wetlands: the beavers. Using their unique adaptations, beavers play a critical role in in creating and maintaining a healthy ecosystem that benefits many plants, animals, and humans. The park's site manager will take participants on a guided tour of the wetlands, complete with demonstrations and activities to help gain a larger appreciation for some of their favorite residents.
Date: April 16
Time: 9-10 a.m.
Location: Osage Park
Creative Minds in the Ozarks Exhibit
The Ozarks have been home to many artists, including painters, woodworkers, and other craftsmen. Take a look at some of the objects in the museum's collection that were made by various Ozark artists. Among those featured include artworks by Roy Harris (folk art woodcarver), Elsie Mistie Sterling (sketch artist and painter) and Henry Tribble (wood inlayer).
Date: April 16 – June 25
Time: 10 a.m. – 4 p.m.
Location: Rogers Historical Museum
The Jungle Book, Don Tyson School of Innovation
On April 21-23, the Don Tyson School of Innovation will present the world premiere of Rudyard Kipling's The Jungle Book as the inaugural production in the school's new Pat Ellison Performing Arts Center on the DTSOI campus. Tickets are $10 general admission, $5 for DTSOI students and staff. Tickets will be sold at the box office each night, cash or check payments are accepted.
Arrive early to enjoy the "Welcome to the Jungle" student art exhibition on display in the lobby, as well as the dance performance, "Rhythm of the Jungle," a series of student-choreographed solos in the adjacent DTSOI Dance Studio, from 4:30 p.m. until showtime each night. Don Tyson School of Innovation is an open enrollment public conversion charter school within the Springdale Public Schools District offering on site, blended, and full virtual options to students.
Date: April 21-23
Time: 6:30 p.m. (for all three dates)
Location: Pat Ellison Performing Arts Center, Don Tyson School of Innovation, Springdale
Click here to buy tickets (click on High School, then Don Tyson School of Innovation, then Drama).
Earth Day at the Botanical Garden of the Ozarks
Join the Botanical Garden of the Ozarks as they celebrate 52 years of Earth Day. This outdoor event includes family-friendly activities, crafts, music, games and giveaways. Visit booths featuring our community partners and explore six cultivated acres of garden beauty. Plus, the City of Fayetteville will be giving away free saplings and Greedy Goats NWA will have live goats for guests to pet and feed. Guests are welcome to bring a picnic to enjoy in the Garden.
Free admission for Garden members. For nonmembers admission is $10 for adults, $5 for kids ages 12-4, children 3 and under are free. Tickets are nonrefundable. All guests are asked to register: 
https://www.bgozarks.org/earth-day-festival/
Date: Sunday, April 24
Time: 1-5 p.m.
Location: BGO, Fayetteville
Live! at Turnbow Park
Enjoy live music in downtown Springdale on the last Thursday of the month. LIVE! at Turnbow features local musicians and bands — from jazz to mariachi, bluegrass and funk. Grab a bite and sip in the Outdoor Dining District and enjoy the tunes.

Date: Thursday, April 28 is the kickoff event (held through October 2022)
Time: 6:30-9 p.m.
Location: Turnbow Park, Springdale