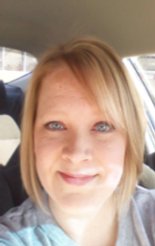 Name: Meredith Michelle Odle-Hutchins, but most people call me Mere
Children's names and ages? I have a step-daughter, Meghan-23 (who blessed us with Braylee Nicole on Dec. 23rd!  It's so cool, I get to be a grandma, well, a MEME, at 31!) Alexandra-16, Layne-10, Conner-8
What line of work are you in? I work for Pinnacle Healthcare in Rogers, we manage 7 LTC facilities. I am the Office Manager, Legal Assistant and Administrative Assistant to the owners (who are like family) I have been here for 10 years so we have been through a lot.
Where are you from and how long have you lived in NWA? Wow, are you ready for this? I was born in Helena, AR, I love the Delta!  When I was 5, my mom and I moved to Waco, TX where I started Kindergarten, I moved back to Helena with my Daddy for 2nd and part of 3rd grade, then I moved to Russellville with my mom. In the 4th grade, my mom married my other Dad, Darrell, and we moved to Knoxville, AR (teeny town between Russellville and Clarksville). I graduated from Lamar High School in '96. That June my Daddy was hurt in an explosion at work so I had to take a detour in life; I moved to Greenville, MS, to be with him until he passed away in November. I then moved to Benton, AR to be closer to my little sister, Cari Ann who was 9 at the time. About a year later, I met my husband and his little girl while getting ready for my best friend from high school's wedding. (She was getting married to Jimmy's cousin). I fell head over heels for Alexandra and then I got to know Jimmy 🙂 It was a whirlwind of a relationship..  I moved to Rogers in December of '98, we were married in July of '99 and I have called NWA home ever since !!
What's the last book you read? I haven't read anything in a long time!!  I usually end up reading whatever Alexandra's reading… Kissed by an Angel by Elizabeth Chandler (at least a year ago). I'm looking forward to reading some of the books you recently posted on the Mama's Choice Book List.
Last movie you saw? Dear John. I cried, but it doesn't take much to make me cry!
What's one of your favorite childhood memories? Fishing with my Daddy.  He started taking me when I was like 6 months old. I grew up loving it! My oldest son inherited his Poppie's fishing genes.
Tell us about some traditions you've started with your kids: Our kids get to pick where they want to go for their special birthday dinner and it's a must that we have the most delicious birthday cake from Carbajal Bakery. Every 4th of July we sit out in the front yard and watch the firework display over at Veteran's Park in Rogers. And one of my favorite traditions are the yearly hunting trips to Hagarville in Johnson County; it is so peaceful.  We build a big campfire and roast weenies and marshmallows and pick muscadines and blackberries. The kids help their Papa in the garden; it's the best! I hope they will always cherish the times there.
If you had a whole day alone, how would you spend it? I wouldn't know what to do with myself!! I have been dying to get a massage. And maybe read a book. But by the afternoon I would be missing my kids and their chaos.
What's the best part about being the mom of a teenager? It's the best of both worlds..  Alexandra is my best friend, she is very mature for her age and we never fight.  And since we enjoy a lot of the same stuff we try to make lots of "girl time". She keeps me young, we ride around with the windows down and the music cranked up even when it's frigid! I have to say that watching her grow into a young woman is amazing, yet heart wrenching. I am so proud of her, but I wish I could keep her my little girl forever! She always knows when I need a hug or a good laugh. We are so lucky as parents! I hear horror stories from so many with teenagers, but so far we have had no worries with her, she is such a good kid.
What's your favorite thing to do in NWA? We went to our first Razorback football game last year, we plan to do many more, it was quite the experience!
If you could have a home somewhere else where would it be? Nowhere in particular, just on a lake surrounded by trees. My dream home will have a big wrap around porch with lots of room for our family!
Which songs are on your MP3 player right now? I have very random taste in music. Almost every day I listen to Cypress Hill, Black Eyed Peas, Eminem, Audioslave, Jimi Hendrix, Rage Against the Machine, Drowning Pool, Led Zeppelin, Taylor Swift, Luscious Jackson, Yeah Yeah Yeahs, Lady GaGa and Alicia Keys.
What's something you've dreamed about doing for a long time? This is an easy one!  🙂 I will go to Nursing School. If I have to wait until my kids are grown, I am going to do it. It has been my dream since I was a little girl.
How do you de-stress at the end of the day? Bua's!! It seems like the more stress I have, the better my work out. The Punching Bag is my best friend when I am super stressed!!  (Cutting up with my kids also helps!)
One word to sum me up … passionate!