Cue the drumroll please!
And the winner of the 2019 Summer Snapshot Contest is…….
Susan Anglin's photo of her grandaughter kissing a baby cow!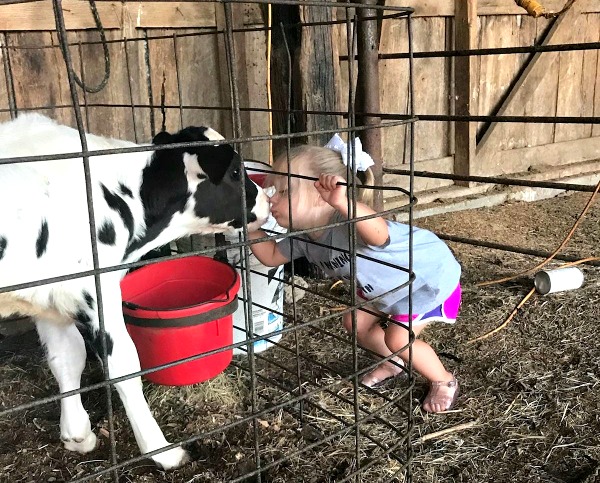 We gave Susan the good news yesterday, and she is so excited! Her family owns a dairy farm in Benton County, and the little beauty in this photo is her granddaughter, Hattie Claire Anglin, who is now 3 years old. Hattie's parents are Cody and Margaret Anglin.
The other little beauty in this photo — the four-legged one — is a calf named "Big." Susan said her granddaughter always wanted to visit "Big" and feed it grain every time she came to the farm. She's a big fan of spending time on the farm, especially when it means she gets to ride around with her daddy as he checks on and feeds the beef cattle.
"Having a granddaughter is SO much fun," Susan said.
Congrats again on your win, Susan, and we hope you love the new 16×20 gallery-wrapped canvas photo print you'll get from Scott Frame & Art. It'll be ready to hang on the wall and will be such a fun conversation piece.
Thank you to ALL of the local mamas who sent in photos for this year's Summer Snapshot Contest. Our judge said this was, by far, the toughest contest to judge because there were just so many great photos to consider — more than 160 of them!
If you missed seeing some of the great snapshots we've posted during the summer, click HERE to see them now. They really are incredibly fun to look through, and finding these sweet faces in my email inbox makes me smile — every single time.
Speaking of smiles, we also want to thank Smile Shoppe for sponsoring this year's Summer Snapshot Contest. Keep in mind that this pediatric dental office has locations in  Bentonville, Rogers, Springdale and a new location in Fayetteville!
The Photo Category, which is always full of smiles, is sponsored by The Smile Shoppe, a pediatric dental practice with offices in Rogers, Springdale, Bentonville and now a new location that just opened in Fayetteville. (Call the new Fayetteville office for appointments at (479) 966-4100.)  The Smile Shoppe specializes in the treatment of infants, children, adolescents as well as children with special needs. Dr. Jeffrey Rhodes ("Dr. J")  and his team are the only all-board certified pediatric group in Northwest Arkansas. Click HERE for more info on the Smile Shoppe. (And let your kids check out their fun website which also includes free coloring sheets and online games.)