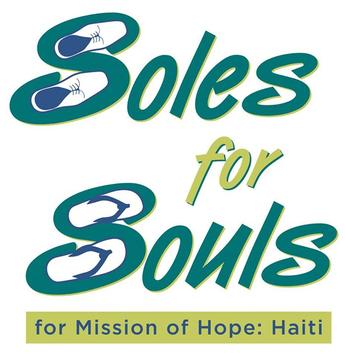 Mamas, we bet you could round up at least one or two (or more) pairs of shoes that the people in your house do NOT wear any more  — either because they're too small, too old, don't fit quite right, or you've just got too many. Please consider donating those shoes to a great organization called Soles for Souls, which was founded by two Northwest Arkansas teenagers, Jake Gearhart and Molly Hedberg.
The shoes will be sent to the Mission of Hope in Haiti, a country still in desperate need as it rebuilds following earthquakes that destroyed the area.
Womens, mens and children's practical shoes are needed, and they can even be used shoes that have been outgrown by your kids. (But no high heels, please.)
Please take the shoes you'd like to donate to a drop-off location at the Hedberg Allergy & Asthma Center. There's a location in Fayetteville and one in Rogers.
Rogers drop-off address: 700 S. 52nd Street
Fayetteville drop-off address: 1585 Rainforest Road
Fore more info or if you'd like to request a pick-up for a donation of shoes, click HERE and send Jake and Molly a message via the group's Facebook page.