Guest post by Holly Shacklett, Simply Organized NWA

Is your work area a little cluttered? We can fix that.
Step 1: Think about all the tasks you perform at your desk and set up little "zones". My desk was purchased for my husband in the early 1990s. I would love a new work area, but it's not in the cards, so I'm making due.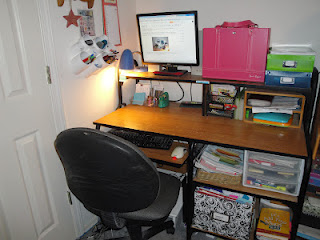 Here are my zones:
Office supplies. My pens and such actually hang on the wall. (This product was marketed in the baby section for bottles or something but it's marvelous like this).  I have a few more office supplies below my computer monitor.  This cosmetic organizer holds notecards nicely and I love how my camera and phone can sit easily in it.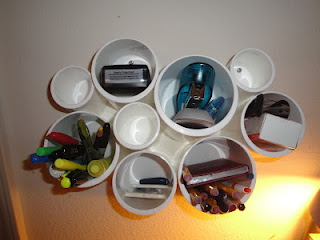 Daily files. In the pink Sophisticated File Tote are my daily theme files.  It's concealed yet staring right at me so I don't forget my habit.  Bonus:  It's portable when I need it to be!  Be sure to click the "daily theme files" link to understand what daily theme files are.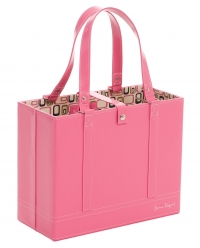 Clever Container. To the right of the tote are two document boxes.  These are for my Clever Container business and on top of the boxes is my Business Tracker.
Receipt Station. Under the document boxes is part of a receipt station.  I use plastic tabbed expandable folders for my receipts.  I have one for shopping receipts, one for my businesses and one for general tax deductions.  I also keep paid bill receipts in the wood divided file box.  Below that is a toy laptop to keep my toddler busy if I need to work and she needs company.  It's a special toy housed here which makes it desirable.
Periodicals. Next to my keyboard is a basket of periodicals.  This is something I do on my paperwork day.  I open to the pages I have earmarked, and take action.  Sometimes it's a website I want to look at, sometimes it's an article I want to bookmark online.  Then I recycle it.
Storage. In the three clear plastic drawers are stamps, return labels, gear cords (separated into labeled ziploc bags) etc.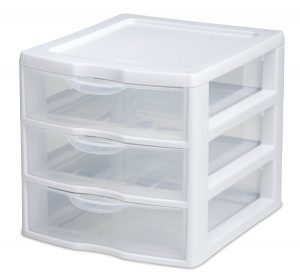 Frequent Reference. At the bottom of my desk is my pretty black and white file box.  This is reserved for things I need to retrieve often.  When my daughter broke her arm, I created a file for that and placed it here.  Now that it's tax season, my file with 1099s etc. are here. I also store the past year's tax return here.  Newspaper coupon inserts also go into a file here.
Infrequent Reference. Behind the black and white box is another box for things I do not need often.  For instance my file for warranty papers and instruction manuals are in it.  Receipts pertaining to each vehicle are organized in that box as well.
Finally to the far right on the bottom shelf is where I keep my favorite Peter Walsh book It's All Too Much and where I keep my coupon organizer, address book, and desk calendar.
These are all things I use every week if not every day. For things I use sporadically, they are stored together in file baskets on a nearby book shelf. So there's a look at my desk and its various zones. Establish zones for your desk. Basically, you need to create a home for your essentials. Create zones for your paperwork. Don't throw it all in a pile, a file or a box together. *GASP!*
Supplies for the tasks you do often need to be at your fingertips. Take a moment to visualize yourself being efficient and productive here at your workspace. What is keeping you from  it?
Set up your zones. I suggest clearing off your work area entirely so you can start with a clean slate.
"Having clear zones means more efficient work and a clear home for all like items."  -Peter Walsh
Love your home!

Holly Shacklett is co-owner of Simply Organized, where they strive to help clients remove obstacles that keep them from being as organized and productive as they want to be. Join Holly every Friday at OrganizeNWA.com as they spend the year de-cluttering. Simply Organized is in the midst of a Spring Purge on the website, including de-cluttering the kitchen, pantry, the yard, more closets, and more rooms!