The word "teenager" has the ability to strike fear in the heart of many anxious parents. We've all heard the horror stories, right? But the good news is that it doesn't have to be a period of life we simply try to survive. We'll talk about a new parenting book specifically about teenagers when we stop by Magic 107.9 Friday morning for our weekly radio chat with hosts Guy Westmoland and Jennifer Irwin.
Tune in between 7:25 a.m. and 8:25 a.m. to join the discussion. We'd love to hear from parents of teens! Click on the graphic below to listen to the radio live on your computer.
Although our kids are not quite tweens yet, we both like to get a jump on things so we read a new book called "The Available Parent," by Dr. John Duffy, a fellow parent and clinical psychologist and parenting expert. The author has been working with teens and tweens for more than 15 years.
We loved this book, mainly because it helped destroy the notion that our precious babies are going to turn into something we don't even recognize once they turn 13 and that the whole teenage ordeal is something to be dreaded. During our radio chat, we'll cover some of the highlights and our favorite pieces of advice from the book. We'll touch on the three areas the book discusses most:
Part 1: Your Teenager's Wild World
Part 3: What ALWAYS Works
We learned a lot from this book and are happy to report that we're not nearly as skittish about our kids becoming tweens and teens now. We know they'll definitely be some unexpected bumps along the way, but the perspective offered by this book encourages parents to not only be optimistic but to also enjoy the crazy adventure that raising a teenager provides. Click on the book cover above to read more reviews of the book from other parents on the Amazon.com website.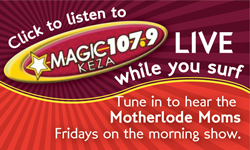 Save