Here at nwaMotherlode we've partnered with Mommybites so that the Northwest Arkansas parents who read us have access to awesome, FREE online parenting classes.
There are teleclasses and webinars, take your pick. The next one coming up on Wednesday (Jan. 8) is about potty training, but it is SOLD OUT. So you can shoot for the next one on Jan. 14 about getting organized: Secrets of an Organized Mom. The teacher, Barbara Reich, is a professional organizer based in New York. "Her tough-love approach turns organization and clutter from chore to lifestyle. She takes inspiration from her love of organizing, her husband and their thirteen year old twins. Her book, 'Secrets of an Organized Mom' is on shelves now."
You can listen to these Mommybites teleclasses and webinars from the comfort of your home or office — over your phone or computer — which we LOVE. You just sign up and you'll receive dial-up info after registering. Just be sure to sign up ASAP because the parenting classes do fill up. You can follow Mommybites on Facebook since they post most of the classes the day they open them up for registration.
UPCOMING FREE PARENTING CLASSES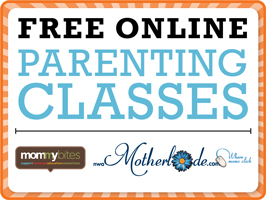 ABOUT MOMMYBITES: Mommybites was founded in 2006 and has become one of the largest social and educational communities in the NY area and has a growing online community. Through their signature free online parenting classes and parenting tips and articles, Mommybites connects moms-to-moms, moms to experts and moms to all the latest parenting education, products, resources and support to help make moms' lives a bit easier.