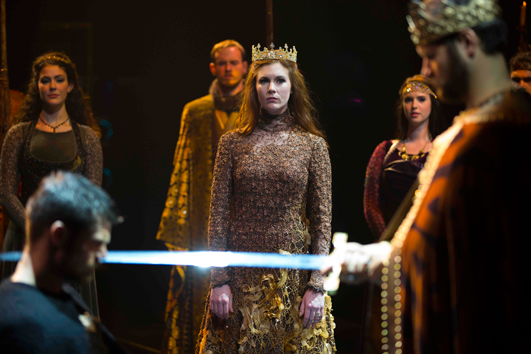 Sword fights, gallant knights and damsels in distress.
Combined, these are the ingredients for any child's perfect action-packed and fun-filled playtime scenario. But for three young, local actors, these imaginary games are coming to life on stage.
Walton Arts Center  in conjunction with Phoenix Entertainment selected three local actors to portray the role of "Tom of Warwick" in the production of Lerner & Loewe's Camelot.
The actors are Preston Dulaney (14), Jack Duncan (8) and Jake Fennell (12).
The internationally-acclaimed Camelot will run eight shows beginning Tuesday, Feb. 17 through Sunday, Feb. 22. Click here to buy tickets!

Here's more about each of the local actors:
Preston Dulaney
Preston is currently a freshman at Bentonville High School, he began acting in 2005. Since then he has appeared onstage in such shows as Les Miserables, Wizard of Oz, The King and I, A Christmas Story, and Stuart Little. Preston also plans to study acting and theater in college.
Jack Duncan
Jack Duncan is currently in 3rd Grade at the Fayetteville Montessori School. When he's not in school, Jack studies theatre arts and performance at Arts Live Theatre in Fayetteville. He was cast in Arts Live Theatre's recent productions of Peter Pan, Jr. and Charlotte's Web along with being cast in the leading roles in his last three school plays at Fayetteville Montessori School.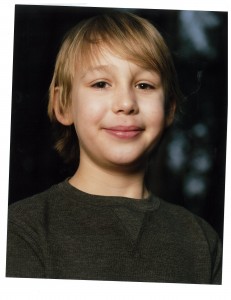 Jake Fennell
Jake is currently in 7th Grade at the Arkansas Arts Academy. Jake plays the violin in his school orchestra and is also the concertmaster for the andante group. Since he started acting, Jake has played the role of Marcellus in TheatreSquared's young actor's drama camp's production of Hamlet. He also played King Puck in a play about Irish folklore at Cooper Elementary School.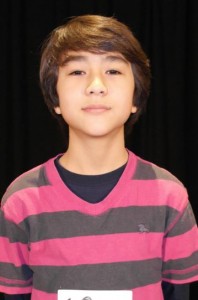 Tom of Warwick appears, toward the end of the play, as a young boy destined to fulfill his dreams of becoming a knight, fighting for what is right and giving King Arthur hope for the future of Camelot.
"I was so happy when I heard I was doing a show at the Walton Arts Center! That's really big,'" Jake Fennell said, remembering how he felt since he'd been selected for the role.
The opportunity to share the stage with actors who are living their dream of performing in a Broadway show gives these young thespians a unique experience not typically offered to actors their age.
Preston Dulaney, who is a ninth grader at Bentonville High School, told us that he was "absolutely filled with joy" when he discovered he landed the part.
"I am so excited to meet all of the people in the show and be onstage alongside them. I love getting laughs and seeing the hundreds of people in the audience. I think that plays add more culture to the world," he said.
For the youngest cast member, what does he expect for the show?
Jack Duncan, a third grader at Fayetteville Montessori School was also overjoyed at the thought of performing with such a large production.
"I was so excited and happy when I found out. I couldn't believe it. I think Camelot is a really cool story and I get to perform it on that huge stage in front of a huge audience. I've been to the Walton Arts Center a few times and it's great."
For all three boys, acting and performing has been a large part of their lives. "He told me when he was four years old that he wanted to be an actor. He would watch TV and mimic what they were doing. He'd say 'I want to be one of those people,'" said Jennifer McClory, Preston's mother.
Jake, on the other hand, found out that he had a knack for acting through Trike Theater, a professional youth theater based in Bentonville and a resident company of Walton Arts Center.
"In elementary school I played the lead role in the production of King Puck that I did with Trike Theater. I played a talking donkey! It was my first performance and it was good because I was among professionals and peers of the same age, so I felt very comfortable. It helped me realize that I love acting," Said Jack.
Acting isn't Jake's only passion. He also plays the violin and has high hopes to become a roller coaster engineer when he grows up.
Jack decided that he loved to act after he portrayed the infamous Grinch in a school production of How the Grinch Stole Christmas. Since then he has been studying theater arts and performance at Arts Live Theatre in Fayetteville.
"I love getting to pretend to be someone else and getting to make new friends. It is the best part of acting for me."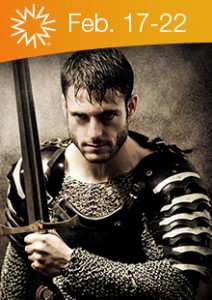 When preparing for the audition, the talented trio agreed that the key to success is complete memorization of their lines with a dash of imagination and artistry. They also said they benefit from rehearsing with the actors they play opposite of, watching their body language and facial expressions to gauge how the scene might unfold.
"I read over the script and tried to memorize the lines as best as I could. I always try to get into the character's shoes and understand what they're going through. When I read the lines it helps me get into character, and for some reason it just clicks for me in my brain," said Preston.
"I memorized my lines so that I didn't mess up, and my dad helped me to rehearse and get ready for the audition. I also took lots of deep breaths," said Jake. "My advice is to not procrastinate on learning your lines. Even when you have them memorized, just keep practicing and listen to your mentors. My parents are my mentors — they always help me study my lines."
The youngest of the group, Jack, had his own words of wisdom for other actors his age, and people in general. "If you mess up, you just have to keep on trying and don't give up," he said.
These bright young stars obviously have a stellar future ahead of them. The local community will get to watch part of that future unfold at Camelot, as the boys take the stage for the time-honored story of chivalry, majesty and brotherhood.
Camelot will be showing at Walton Arts Center February 17-22. Tickets range from $36 to $74 and may be purchased at the box office or online at www.waltonartscenter.org.