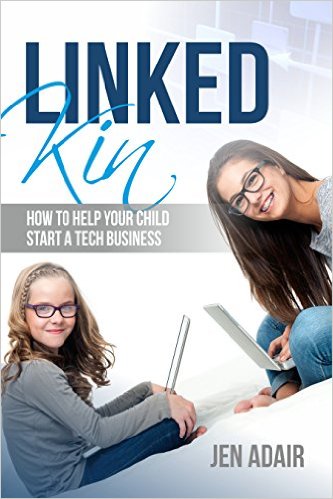 Get ready because we're about to brag a little. One of our very own bloggers, the hilarious AND brilliant Jen Adair who writes the Slightly Tilted blog, has just published her first book! And if you've got kids who love computers like Jen's kids do, you're going to want to own a copy.
The book is called "Linked Kin: How to help your child start a tech business." (We love, love, love the clever title.) And here's the kid-version of the same book, a perfect read for your kids: "Bossy: Online Startups for Kids and Teens."
Long before she wrote the book, Jen lived the book. As a homeschooling mom to two kids, she asked them what new project they wanted to do. When they answered "build an iPhone app," Jen dove into an ocean of technology info and started figuring out how to make it happen.
The result? She and the kids built an app called Citiblox. You can download it in the App store. (We were so impressed with Jen's app-building skills that we hired her to design and build the nwaMotherlode app!)
A few years later, Jen and her kids launched their own website called Ponder Monster. (Click here to check out Ponder Monster. It's such a creative site full of fun info, and our kids love it. The fact that it was created BY kids and FOR kids makes it extra cool.) They also have their own YouTube channel and have designed decals sold at local stores.
If you're wondering if this book is for you, we'll let Jen answer that in a passage from the book's introduction:
"This book will show you ways to encourage your child (and you!) to try new things, explore ideas, and create a business while they are young to earn their own money, further their education, and inspire creativity. Age is not really a factor — don't let it limit you and certainly don't let it limit your child! Amazing things can happen no matter your age or location. You just have to work at it."
Jen is one of those rare people who not only understands complex technology but can also EXPLAIN it to the rest of us in a way that makes perfect sense. And the fact that she can deliver this type of material in a way that's also funny and relevant to everyday mom life makes this a book that you will love.
The best part? This just might be the book that sparks something HUGE in the life of your child. Future Mark Zuckerberg? Future Steve Jobs? Anything is possible when parents nurture the creative spark that lives within each and every child.
Good news! Jen's new book is available on Amazon right now for only 99 cents! Woo-hoo! We love a bargain. (Click here to see it.) But please know that this book is a bargain at any price. Jen has done all the technological heavy lifting for you so that, when you and your kid decide to create a new business, you'll have the tools and know-how you need to get started. Happy reading!