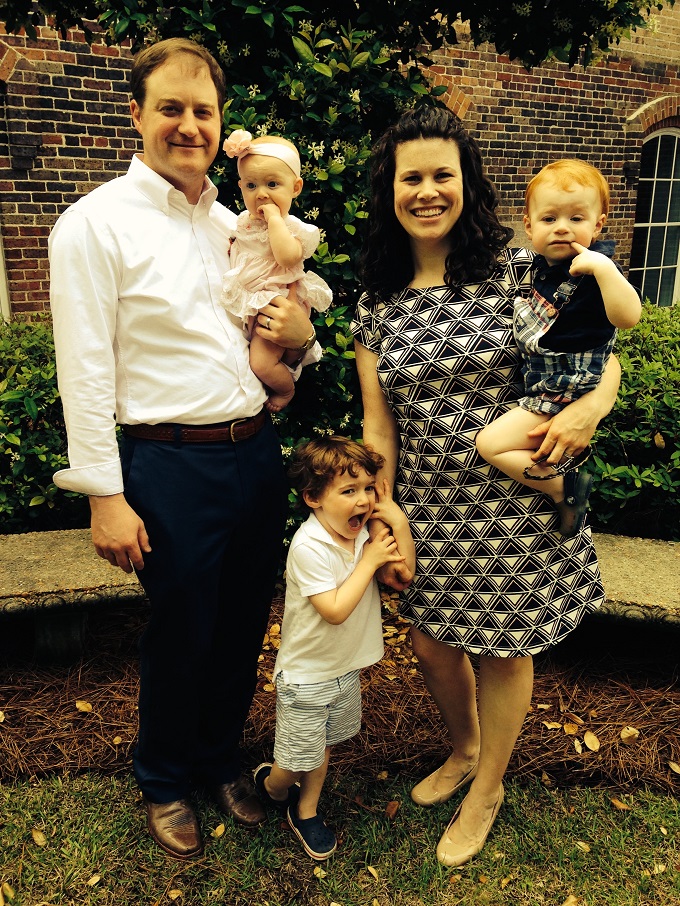 Name: Andrea Murr
Kids' names and ages? Our sons, Sutton and Turner, are 5 and 3 years old, respectively. Our daughter, Lucy, is 1 year old.
Where were you raised? I was born and raised in Arlington, Texas.
How long have you lived in NWA and what brought your family here? This is actually our second time to live in NWA. We left NWA in 2009 and returned last spring, March 2015. My husband, Ben, is with a vendor, Flowers Foods, which is why we are back in Walmart country.
What was the last song you sang along with? Live and Die by The Avett Brothers
What's your favorite vacation spot? Our absolute favorite thing we were able to do when we lived in Thomasville, Georgia (where we recently moved from) was take day trips to the Gulf Coast and eat at our favorite little oyster bar, Boss Oyster Bar in Apalachicola, Florida. We also took a few weekend trips to Mexico Beach, Pensacola and Destin. Such great memories! We got so spoiled being only a couple of hours from white sandy beaches!
Your favorite place so far in NWA? The Bentonville Farmers Market! We went every Saturday morning to buy our produce and eggs for the week.  I am sad it has ended.
What about your favorite chick flick? Oh man, do I love a good chick flick! I don't think I can choose just one. It is a tie between Father of the Bride and Big Business. Brilliant films, I tell you!
Your most-loved hobbies? I have recently discovered that my No. 1 hobby, passion, gift in life is people. I prayed for two years that God would show me what my "thing" is in this life. I kept waiting for a huge revelation – something seriously creative or very impactful. Looking back, I realize He tried telling me for two years.
A few months ago, I started reading For the Love by Jen Hatmaker and it hit me like a ton of bricks. My "thing" is people. What I have discovered is that your gift/passion, although it may seem small or not very important when we compare it to someone else's gift, it is huge and very impactful because it is what God gave you to make a difference in this world.
You have a passion for helping women be healthier. Can you tell us a little about that?  Over the last 13 years, different women in my life have impacted my health for the better. They have taught me things I honestly didn't know before I met them.
My most recent discovery was regarding personal care products like our makeup, hair care, face care, body care, etc. One of my best friends introduced me to a company called Beautycounter. Its mission is to get safe products into the hands of everyone. My first thought was, "Why does this company care? I mean, aren't most personal care products safe? We have the FDA to protect us, right?" What I discovered is Beautycounter cares because this industry is self-regulated and therefore not as safe as people assume it is.
The last law regulating this industry was in 1938. So, companies are allowed to use known toxins – ingredients such as formaldehyde, lead, parabens and phthalates that have been linked to cancer, hormone disruption, reproductive issues. When it comes to this industry, FDA approved really does not mean much.
I have watched people I love battle cancer; people I love struggle with infertility; people I love hear the diagnosis Autism for their beloved child; people I love get hit with numerous other nasty illnesses, diseases and disruptions. Frankly, I am tired of it. After learning about this industry, how much of an impact the environment has on our health and loving the products my kids and I used for a few weeks, I decided to join Beautycounter.
I care about people and saw this as an opportunity to use my gift, passion and hobby in life. It is also a way to give back. So many women have invested in me and changed my life for the better, so now it is my turn. Plus, being a new person in town it has helped me connect with other women and form friendships. My main goal with Beautycounter is educating women about personal care products so they can make healthier decisions for themselves and their family.
Beautycounter has a list of 1,500 ingredients known as the Neverlist. Any ingredient that has ever been linked to a health issue goes on this list. After I give people the information, they have options for safer products whether they buy Beautycounter products from me or they take their Neverlist card to Target or another retailer to buy safer products. To learn more about Beautycounter and this industry, visit www.beautycounter.com/andreamurr. You can also contact me directly at andrea.murr@gmail.com
What could women cut out of their lives right now to be healthier STAT? One thing I know is we have one shot at this life. We cannot control every single risk factor in our life, but there are things we can control like our diet, exercise, parts of our environment and what we put on our bodies.
Small changes can add up to big health rewards: replacing your current personal care products with safer non-toxic ones, changing out your cleaning/laundry supplies with safer products, replacing plastic Tupperware and dishes with glass or stainless steel, choosing whole grains over white, eliminating food dyes and artificial flavors. Commit to making one change to benefit you and your family's health.
What are some of your favorite parenting moments? Catching my kids loving on each other. Also, the moments where I see God – a question about faith in Jesus or one of my kid's sticking up for one of their friends or siblings. Probably the best is how easily and quickly they forgive me for being an imperfect mommy. They have taught me so much about love, life and faith in my God.
What's your favorite way to get your kids laughing again after a hard day? Usually a little visit from the Tickle Monster does the trick. Occasionally, though, they just can't escape the foul so a little reverse psychology is in order: "Don't you smile…don't do it…oh, don't let me see those teeth…you better not crack that smile!" Gets them laughing every single time! What in the world?!!!
What's a meal you make over and over for your kids? My kids are pretty young, so I don't get a lot of requests for certain dishes. I hear less complaints with the following foods: fruit, edamame, rice with soy sauce, honey chicken, spaghetti and tacos. The truth is I just cook and they either eat or don't. I am respectful, though, and don't cook crazy dishes that I know they absolutely will not touch. Here's what I do know…they are not starving even if they skip a meal.
What's your idea of a relaxing day? Honestly, not having anywhere to be, nothing to do around my house, absolutely no obligations except for hanging out with my family all day long. It could be a super lazy, pj's all day kind of a day or a fun packed day where we leave the  house in the morning and don't come home until dark. Whatever it is, it is with my family and their are no restrictions or constraints.
One word to sum me up …passionate