4 And John himself was clothed in camel's hair, with a leather belt around his waist; and his food was locusts and wild honey.  Matthew 3:4  (NKJV)
By Bro. John L. Cash, "Country Preacher Dad"
Right now in Mississippi, the forests are humming with the sound of locusts. (I think the actual scientific name for the insect is  "cicada," but, growing up in Arkansas, we always called them "locusts.") On the news they said we get a new crop of locusts every 13 years. We must be having a bumper crop this year because they're making a steady noise like a high-pitched chainsaw; I've never really heard a sound quite like it before.
The mention of locusts always makes me think about my childhood in Stuttgart. It was always fascinating to see one of the insects shedding its skin, leaving a hard shell attached to the bark of a tree, and emerging with a new, soft covering that would darken and harden in the summer heat. The empty shells provided a lot of fun. You could hold one while you chased a girl who was afraid of bugs, hoping to attach it to her clothing so you could hear her scream.
The subject of locusts always makes me think of the Bible, too. St. John the Baptist was one of Jesus' cousins. Jesus said that, of all the men who had ever lived, John the Baptist was the greatest. (Matthew 11:11). (In my book, that's a pretty good endorsement.) And when John the Baptist got hungry, he ate locusts and wild honey.
I'm pretty sure John the Baptist was rather shocking in his appearance and habits. From what we can tell, he was a Nazarite from the day of his birth, which means he would have never drunk wine, eaten grapes or raisins, touched a dead body, or cut his hair. (When you live in the desert and don't cut your hair for over 30 years, I'll bet you have some pretty serious dread-locks growing.) His clothes were made of camel hair, and he wore a leather belt around his waist. He spent his days preaching repentance to anyone who would listen and baptizing those who believed. I think he ate the locusts and wild honey because these were foods you didn't have to buy or cook. He just picked them up where he found them and ate them raw. It left him more time for his preaching.
Now just think how different the lifestyle of John the Baptist was from that of the Lord Jesus. Jesus was a Nazarene (which means he was born in Nazareth) but he was not a Nazarite (which was a kind of special vow). Jesus cut his hair, drank wine, ate grapes and raisins (we assume), and touched dead bodies. He lived in a town instead of the desert. He wore a linen robe that was woven all in one piece. And he ate normal food—like lamb at the Passover. And He was always sitting at a table sharing a meal with the everyday people, eating whatever they ate.
I think there's an important lesson we can take from this. Jesus and John the Baptist were very different in the external matters seen by men, but were both highly favored by their Heavenly Father. We see this happening throughout the Holy Scriptures. God uses all sorts of people. He doesn't cut humans out with a cookie-cutter so that they're all the same, but He always makes unique individuals.
This is a lesson we all need to take to heart. And it's a lesson we need to instill upon the hearts of our young ones. Some of God's servants ate lamb. Some of God's servants ate locusts. All of His children have work that He was prepared for them to do. He didn't create  you to be an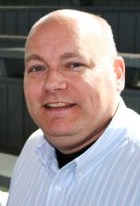 imitation of anyone else. He wants you to be "the best you" that you can be.
Dr. John L. Cash is the "Country Preacher Dad." He was raised in Stuttgart, Arkansas, and has spent the last 25 years being a country preacher in the piney woods five miles south of the little town of Hickory, Mississippi. (On week days he works at a public school.)  He and his lovely wife, Susan, and his sons, Spencer (age 20) and Seth (age 16) live in the parsonage next door to the Antioch Christian Church (where "Sister" and "Miss Louvenia"—the parsonage cats—are the only ones that enjoy snacking on an occasional insect.) He would love to hear from you in an email sent to jcash@scott.k12.ms.us.