Our soul waits for the LORD; He is our help and our shield.  Psalm 33:20 NKJV
By Bro. John L. Cash
I absolutely abhor the political climate in which we're living. Instead of accentuating the things on which we can agree, many Americans of all political persuasions are dwelling on things that divide us. It's my hope and prayer that the Lord will send a spirit that helps us move in a better direction.
I wrote a column not too long ago in which I said that I'm pretty much a non-political person right now.  (Click here to read that one.) In that column, I wished for a return of the time when leaders of all political parties showed forth the Fruit of the Spirit in their lives. This is still the earnest desire of my heart.
Right now the government of our nation is shut down over a dispute about "The Wall."
I'm sure you have an opinion about that issue, and I'd bet all my readers don't have the same opinion. And today, I don't intend to tell you my personal view of "The Wall." I don't share my political views often.
Most of the time, my political views aren't all the way to the right or all the way to the left. They're on a continuum, a "sliding scale" somewhere in the middle. It always amuses me when other people, both Republican and Democrat, come up to me and speak in a way that assumes my beliefs are identical to theirs. So, please believe me, what I'm saying isn't political.
Instead, today I intend to make a religious statement. It's about where the Scriptures say we should put our trust. The Bible teaches that none of us should put our faith in any government plan or any sort of military might to keep our nation safe. Instead, our emphasis should be on obeying God and putting our trust in him.
The Psalmist says it this way:

 16 No king is saved by the multitude of an army; A mighty man is not delivered by great strength.

 17 A horse is a vain hope for safety; Neither shall it deliver any by its great strength.

 18 Behold, the eye of the LORD is on those who fear Him, On those who hope in His mercy.
The message is clear. If you're not right with God, a wall is not going to save you. History tells us that the holy city of Jerusalem was completely surrounded by a sturdy wall. (In a Bible story, King David had to slip in through the drainage system to get past it.) But in spite of the wall (and because of the nation's idolatry and  disobedience) the LORD allowed Jerusalem to be utterly destroyed twice. It's a sober reminder for us to put our trust in the One who is eternal.
The ultimate safety in this whole world is to have our lives situated squarely within the will of our Heavenly Father. Oh, how I pray that, as a nation, we Christians will put our whole effort into loving the Lord God with all our hearts (and in turn keeping His commandments) as we love our neighbors as ourselves.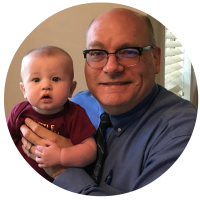 Dr. John L. Cash is the "Country Preacher Dad." He was raised in Stuttgart, Arkansas, and has spent the last 33 years being a country preacher in the piney woods five miles south of the little town of Hickory, Mississippi. He's a retired Mississippi public schoolteacher with grown sons, and is now a stay-at-home-grandpa with his grandson, Landon Cash. He and his lovely wife, Susan, live in a brick house in town (where the Landon has had to play inside all week because of the winter rain.) You can send him a note at brotherjohn@ilovechurchcamp.com.