We've never met a kid who didn't love art.
And don't you love the idea of letting them get all kinds of creative — with tons of art supplies — then not having to clean up?
That's where Abrakadoodle, a new art-focused company in NWA, can help.
The owners, Joy and Cora Davis (an adorable mother-daughter team) want to give one lucky Motherlode reader a free summer camp for her kid! The winner will be get to choose the theme. That's a $130 value!
The camps are for kids ages 5 to 12 and Abrakadoodle has all kinds of summer camp options, including:
♦ The Big Abrakadoodle Circus
♦ Camp Art Rocks!
♦ Yummy Art
♦ Glitz and Glam Fashionista
HOW TO ENTER: If you'd love to win one of these art camps for your kid, click on the words "post a comment" below and tell us which camp you think your kids would most enjoy.
CLICK HERE to see all the camp options so far!
EXTRA SPECIAL WAY TO GET AN EXTRA ENTRY: If you'd really love to win a free Abrakadoodle camp, just post an art-related picture of your kid(s) on their Facebook page by going HERE. Be sure to let us in comments that you posted a pic 🙂
OTHER WAYS TO INCREASE YOUR ODDS: If you'd like to increase your odds of winning one of these great art summer camps, just share! Email friends and family about the giveaway and CC us so we'll be sure to give you credit. We'll give you an extra chance to win for each person you tell. The email is giveaways@nwaMotherlode.com.
You can also earn an extra chance to win by signing up to receive the free email newsletter we send once a week. The sign-up box is at the top right of this page.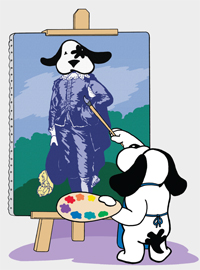 BE SOCIAL: You can also earn extra chances to win by commenting on our Facebook page, following us on Twitter or following us on Pinterest. If you do any of those, just mention it in your comment or email so we can give you proper credit.
FYI, Abrakadoodle also offers art birthday parties, art workshops for kids and adults and other events. Just call Joy and Cora to discuss! They are easy-going, sweet ladies who love to help. Joy's phone number is 479-856-6651.
Good luck in the giveaway! We'll choose a winner on Friday!