A huge thank you to all the moms who submitted great photos for our Winter Snapshot Contest. There were SO MANY great pictures. But after careful consideration, the judges have selected a winning picture for the Winter Snapshot Contest. And the winner is….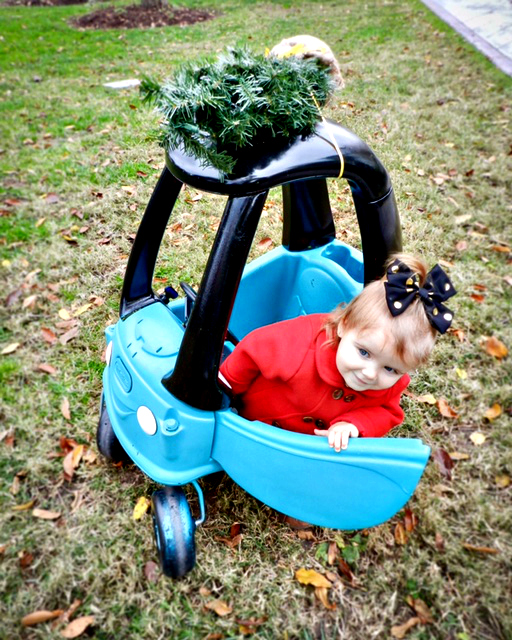 Congratulations to local mom Alison who sent in this adorable photo of her daughter Aurora hauling home a tiny Christmas tree on top of the car. It is SO cute! We love the look on her sweet face.
Aurora is 1 1/2 years old and loves playing outside, dancing, playing with dolls, and playing hide-and-seek. When it's time to chill, she likes to watch Finding Nemo or Frozen. Alison said Aurora is happy with anything that involves Elsa, Nemo, Dory or Spiderman, and she never met a cookie she didn't love. 🙂
Alison will receive a 16×20 gallery-wrapped canvas prepared by our friends at Scott Frame and Art. Congrats!
The Spring Snapshot Contest is now open, so keep that in mind when you're shooting pictures during Spring Break next week! We'd love to see some of your favorite pictures.
HOW TO ENTER: Just send up to 5 photos per month to gwen@nwaMotherlode.com. Judges will select a winning shot at the end of May. We're looking forward to seeing your pics!
The Photo Category, which is always full of smiles, is sponsored by The Smile Shoppe, a pediatric dental practice with offices in Rogers and Springdale. The Smile Shoppe specializes in the treatment of infants, children, adolescents as well as children with special needs. Dr. Jeffrey Rhodes and Dr. Emily Fourmy are both board certified by the American Board of Pediatric Dentistry, and Dr. Amanda Hankins is a Board Eligible Pediatric Dentist. Click HERE for more info on the Smile Shoppe. (And let your kids check out their fun website which also includes free coloring sheets and online games.)
Save
Save
Save
Save
Save
Save
Save
Save
Save
Save
Save
Save
Save
Save
Save
Save