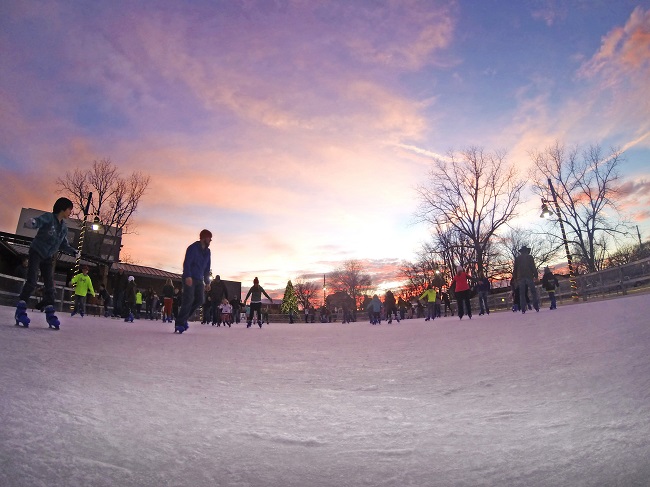 There's always something fun happening in Northwest Arkansas!
We round up all the best activities for families and moms in our regular monthly calendar, but we also want to start giving you a heads-up on Fridays about what's happening over the weekend, so you don't miss a thing.
Here are a few good ideas for what to do in NWA this weekend, Jan. 16-17:
Ice Skating at Lawrence Plaza. The Rink at Lawrence Plaza is about to close for the season, so you might want to go out over the next couple of weekends. We just confirmed that the city of Bentonville has extended the dates the rink will be open through January 31st! It's $3 per skate session | $2 skate rental.
Click here for more info on dates and times!
If you want to get your ice skate on in Washington County, The Jones Center for Families also has an ice rink that's open year-round. Click here to see ice skating hours at The Jones Center.
NPR's Ira Glass at Walton Arts Center. If you like This American Life on NPR, this will be up your alley. Walton Arts Center kicks off a new series with "Reinventing Radio: An Evening with Ira Glass" on Saturday (Jan. 16) at 8 p.m. He'll mix stories on-stage, combining narration with pre-taped quotes and music to recreate the sound of the show as you watch and listen along.
Ticket prices range from $18 to $48. For tickets, call Walton Arts Center's Box Office at 479.443.5600 or click here visit waltonartscenter.org.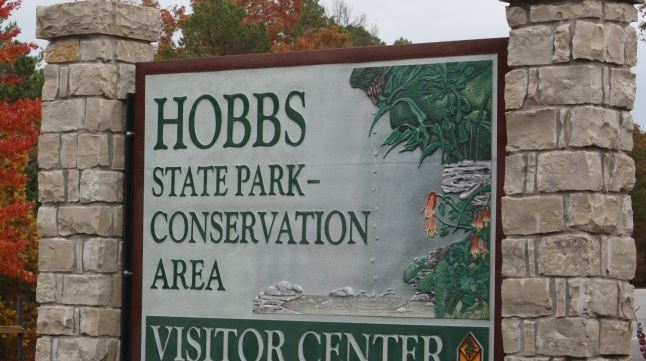 Wonder of Winter Wildlife. Celebrate the Wonders of Winter Wildlife at Hobbs State Park-Conservation Area. There will be all kinds of family activities and crafts throughout the day on Saturday and they have some fun stuff on Sunday, too. Here are the Saturday events:
First up is Birds and Breakfast at 9 a.m. Join the folks from the University of Arkansas while they catch, band, and release birds.  This is a great opportunity for close-up photos. Plus free rolls and coffee 🙂
Next, they'll be doing "bird hand prints" with the kids from 10-11 a.m.
The Ozark Plateau Trail Nature Hike is at 11 am. Join Park Interpreter Steve for an easy stroll.
Nature Detective will be at 1:30 p.m. Have you ever been on the trails and not seen an animal? Animals can be hard to spot, but they leave signs of their presence. Park Interpreter Rebekah will help you make your own track identification card. Then look for clues about our native animals and figure out what the clues tell us.
Raptor Rescue, 3 p.m.  Wildlife rescuer, Lynn Sciumbato, brings to Hobbs State Park an assortment of small and large birds that she has saved that can no longer survive in the wild on their own. Lynn tells some wonderful stories about these marvelous creatures. Bring your camera.
The eagle cruise is all full, so you can't book that, FYI.
For everything, meet at the visitor center. Admission is free. Click here for more info on everything going on at Hobbs on Saturday AND Sunday.
The Picture of Dorian Gray. Join Opera Fayetteville for Lowell Liebermann's The Picture of Dorian Gray, based on the well-beloved novel by Oscar Wilde. It will be on Saturday at 7:30 p.m. at the Stella Boyle Smith Concert Hall at the University of Arkansas. Directed by Stephanie Havey, Conducted by Robert Mueller, Starring Jon Jurgens and Daniel Scofield and accompanied by the Opera Fayetteville Orchestra. Sung in English with Supertitles.
Tickets are  available HERE at operafayetteville.org.
Main Street Music Nites Series. Intimate, relaxed evenings spotlight great area musicians in a close-up, casual setting in the Arts Center of the Ozarks Gallery in Springdale. Smokey and the Mirror, husband and wife duo Bryan and Bernice Hembree (founders and co-creators of the Fayetteville Roots Festival) lean back toward their early rock & roll, country, and R&B influences to make beautiful music together.
The event will be on Saturday at 7:30 p.m. Click here to buy tickets.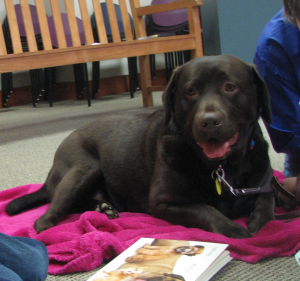 Bonus activity: Kibbles & Books 5th year kick-off with therapy dogs. This Springdale Public Library program is designed to help children develop literacy skills and build confidence by reading to a therapy dog. At the kick-off event, welcome back the therapy dogs and their handlers by celebrating the start of the 5th year of Kibbles & Books! Read to the dogs and make a puppy craft.
To register your child to be part of Kibbles & Books, call the Children's Services Department at 479-750-8180. Or just visit on the 16th at 2 p.m. to check it out.