By Gwen Rockwood, newspaper columnist and mama of 3
There has been so much waiting this year. Waiting during the initial coronavirus shutdowns. Waiting for toilet paper to be restocked. Waiting out the spring and summer surges. Waiting for school to start. Waiting for a vaccine. Waiting for the election noise to stop. There has been so much waiting, and some of us (raising my hand) aren't known for our patience.
But there's one thing we no longer have to wait on. In fact, it's already here. Discounts and deals that used to be saved for Black Friday arrived in early November this year. If you're in need of retail therapy, you're in luck.
Retail analysts say the pandemic has caused retailers to rethink their sales strategy. Instead of saving the best for last, this year they're starting sales earlier and extending them longer.
This is great news for those of us who prefer shopping online versus pushing through throngs of strangers to get the good stuff. I learned the hard way that I'm not cut out for the rough and tumble world of Black Friday shopping. About 20 years ago, Tom and I visited his parents in Tampa, Florida for Thanksgiving and agreed to take his mother to a Black Friday sale at a Walmart. She wanted to buy a couple of scooters on sale for two of her grandchildren.
At the time, my mother-in-law was recovering from foot surgery. Her doctor had given her a medical scooter to use while she healed. With the bad leg, she bent her knee and put into the cradle of the scooter so her foot could be held up behind her. She walked with one leg and rolled with the other, which wasn't a particularly fast or easy way to get around. We offered to go to the store for her so she wouldn't have to get up early and navigate the crowds.
But she was the mother of eight grown children and more than 20 grandchildren and she'd never met a challenge she couldn't handle. She wanted to come with us and grab the discount for herself. So, in the wee hours of the morning, we parked in the dark and saw a line of hundreds of people snaking around the parking lot's perimeter. We decided it didn't make sense to go to the back of the line and have her walk-roll all the way across the parking lot. Instead,
we stood near the doors to wait until everyone else in line went in before we did.
You should've seen the menacing glares we got from shoppers in that line, suspicious that we might be trying something fishy. Maybe they thought we'd brought along a handicapped 75-year-old grandmother to try to scam our way to the front of the line. Tom had to assure several of them that we'd wait until the line filed in first.
Once we were inside, we went into bodyguard mode, doing our best to keep his mom from being bumped, jostled or mowed down as crowds surged around us. I remember thinking that if we were lucky enough to leave without getting hurt or in a yelling match with a crazed scooter buyer, we'd never brave a Black Friday crowd again.
I realize some people love the adrenaline rush and the retail obstacle course that Black Friday brings with it. They see discount shopping as a contact sport, and they don't mind throwing elbows to grab an item before someone else does.
But I'm more of a "Can't we all just get along?" shopper – unwilling to go to war to bag a bargain. I'll take a calm click over a rowdy crowd any day. My "online cart" has never once had a wobbly wheel, and there are no lines and no infected respiratory droplets to dodge on the Internet. Plus,, there's something warm and wonderful about finishing your Christmas shopping while wearing pajama pants at home.
Just remember that this year, the early bird gets the online worm. Ready? Set? Shop.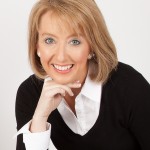 Gwen Rockwood is a mom to three great kids, wife to one cool guy, a newspaper columnist and co-owner of nwaMotherlode.com. Her book is available on Amazon.