If you have an older kid who's interested in art and design, listen up, mamas!
The University of Arkansas is hosting Design Camp this summer — and it sounds AMAZing.
Design Camp offers the chance to learn about design professions through hands-on projects, tours, presentation and discussions led by architecture, landscape architecture and interior design faculty of the Fay Jones School. Students will have the opportunity to work closely with faculty and fellow campers in a fun and creative studio environment while they walk students through the design process.
Click here to see a sample schedule. Click here to register.
We asked Alison Turner, AIA, LEED AP at the University of Arkansas' Fay Jones School of Architecture + Design, to tell us about the upcoming camp:
Q: Tell us about your role in the design summer camp: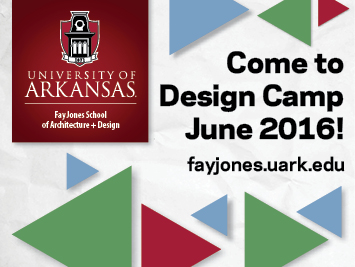 I am the Director of all of our camps and I also teach at most of them. We have (4) locations this year: Fayetteville (Basic and Advanced Camp and overnight option available), Little Rock, Hot Springs and Wilson, AR.
Q: Who would benefit from enrolling in the camp?
Students who are interested in art, architecture and/or design as a potential career path.
Q: What are some of the things students will learn in the classes, hands-on tours, etc?
We have three professional programs in the Fay Jones School of Architecture + Design: Architecture, Interior Design and Landscape Architecture. In our camp, one of our focuses is teaching students what those professions are and how our design process works. We typically have a hands-on design project where the students learn different skills within the project, such as observation, sketching, brainstorming, site studies, programming, model construction and representational drawing. We also spend time getting out in the community to see built projects and talk to local designers.
Click here to see a video about Design Camp:
Q: Will students take home a project they create at camp?
In most cases, yes, the students will be able to take their work home with them. At some locations we have done an exhibition of the work immediately after the camp, but we try to get the work back to the students as soon as it is over.
Q: What do you hear most from students after their Fay Jones summer camp experience?
Most of the students love going through the design process and having the opportunity to realize a design of their own.
Q: How old do students need to be to attend?
The camp is open to students who will be going into 9th-12th grades in the fall. The only exception is that our Wison camp is open to K-12.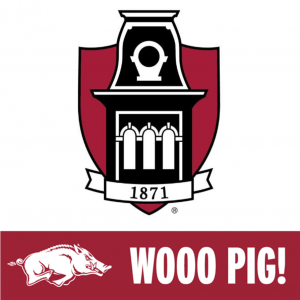 Q: We noticed the Fayetteville camps has expanded to include staying overnights on campus. Is that so students can become more immersed in the experience?
In the past couple of years we have started to see interest from students who live all over Arkansas as well as students from out of state and we wanted to provide students who did not live locally to any of our locations the opportunity to attend the camp. But, also for local students who want to have a week long 24 hour camp experience. We will have fun activities in the evenings to help those students get to know each other better and share their camp experiences.
Q: You have classes for beginner and advanced (returning) students, correct?
Yes, we have our basic camp, which I would recommend for most students and because we have started to see students returning to camp we are starting an Advanced Design Camp option for students who have been to our camp before, or for students who have a significant amount of experience with architecture and design.
Q: When are the summer sessions?
We have four locations:
On Campus at the University of Arkansas in Fayetteville from June 13-17.
In the City at the Arkansas Studies Institute in Little Rock June 20-24.
In the Garden at Garvan Woodland Gardens in Hot Springs June 27-July 1.
At the Delta School in Wilson Arkansas June 27-July 1.
Here's a link to our website, which has a link to registration: http://fayjones.uark.edu/news-and-events/design-camp.php
For more information, you can also visit architecture.uark.edu, and click on Design Camp under "News and Events".
Alison Turner received her Master of Architecture degree from Parsons School of Design, where she was awarded the Alpha Rho Chi Medal given to the top graduating student, and her Bachelor of Interior Architecture from Kansas State University, where she was the graduation speaker representing Interior Architecture.
After graduating from Parsons, Turner spent several years practicing in New York City before moving to Fayetteville, where she continues to practice. She is a licensed architect and LEED Accredited Professional.
In addition to teaching and practice, Turner is involved with community outreach programs to teach young students about design and the profession of architecture. She leads the Fay Jones School of Architecture + Design's summer Design Camp, and has participated in the Women's Foundation of Arkansas Girls of Promise, and Scouting University on the University of Arkansas Campus.