One of our favorite parts of running nwaMotherlode is getting to meet the people behind the business names we all recognize. Almost always, there's at least one very impressive mother working behind the scenes, helping to make the business successful. And that brings us to today's feature article about a company called CCF Brands.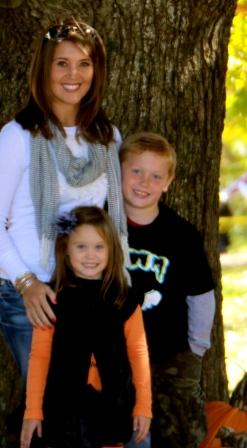 A local mom, Scarlett Daniels, is one of the people who works for CCF Brands. I first got to know her almost three years ago when her little boy and mine were in the same kindergarten class. She's one of those instantly likeable moms who's easy to talk to and lots of fun to have lunch with. We hope the Q&A profile below helps you get to know her and CCF Brands a lot better. We bet your kitchen already has a few of their products in it!
Moms might not be familiar with your company name, CCF Brands, so what are the products you make that moms will recognize in the grocery store?
Our long list of products may surprise you: Great Day All Natural Eggs, Farmers Harvest Organic & Cage Free Eggs, Olde Hearth Refrigerated Bagels, Olde Hearth English Muffins, RingO's chicken rings, Great Day Foods Piggies 'n Pancakes & Farmers Market Eggs –all can be found at Wal-Mart.
Is your company a homegrown Northwest Arkansas business? How did it get started?
Yes, Arkansas has always been our home and we're very blessed to have a company we love in a location we love. Ron Whaley founded the company in 1997 in NWA. In 1998 we implemented our first National Egg Program and in 2003 we were selected as the Wal-Mart supplier of the Year.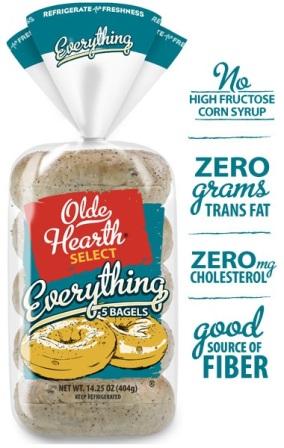 What are some of your newest products?
I'm so excited about this item. In the coming weeks, we're launching an "everything" bagel — a whole-wheat flour, garlic, onion, poppy & sunflower seeds bagel. It's great for making bagel sandwiches. You'll be able to find it along with our Olde Hearth refrigerated bagel line in Wal-Mart. If you're a member of our "Great Day Insighters" (more about that below), I'll definitely send you an email when it hits stores.
We've seen your little boy in some of the ads for Ring-O's. How does he feel about his "celebrity status"? Tell us about the rest of your family.
He loves it! When he's featured in ads, he especially loves passing out RingO's coupons to his friends, and, from what he tells me, he has actually autographed a few of them. 🙂 We h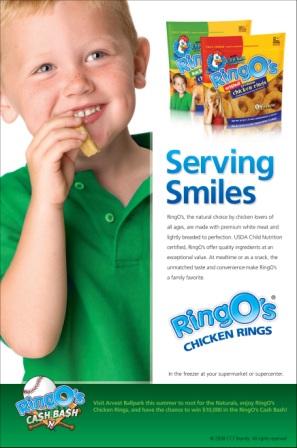 ave several family members who work together so it's not hard to find a willing kid model. The kids have tons of fun. At one photo shoot, RingO's were actually flying all around the studio. We captured some great smiles that day.
As I mentioned, we have several family members who work together and we all consider it a blessing to not only live in the same area but to be able to build a business together that we're proud of. Sometimes it's hard to leave work at the office, but it's our life and we embrace it. Often our dinner conversations and family get-togethers are not your typical, "How was your day?" because more than likely, we already know. 🙂
Which products do your kids like the most? Do you and your husband have certain favorites, too?
RingO's are by far my kids favorite. They love it when we have RingO's night. I bake them and, because of the low fat content, I feel good about what I'm giving them. We experiment with different dipping sauces which range from ketchup to Pampered Chef's Spicy Pineapple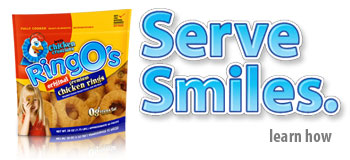 sauce. My husband and I love them, too. If I'm craving chicken nuggets, they'll do the trick and they're much healthier than the alternative. I knew what my husband would say before I asked him, but I asked him anyway, just in case, and of course his favorite product are RingO's, too.
My favorite would have to be the Great Day All Natural Omega-3 eggs. These eggs come from hens that are fed vegetarian diets. They not only contain Omega-3 but are a good source for Choline & Lutein. I love the health benefit of these eggs, but I also love the rich, vibrant yolk when you crack one open. To me, it's worth the extra money to purchase these specialty eggs.
We love your company's website, partly because it has TONS of recipes which we can steal for dinner ideas. Why is having such a comprehensive website a high priority for your company?
Thank you. We're extremely proud of it! It's so important to us to give shoppers as much information as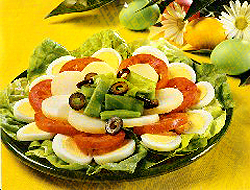 possible. With our broad range of products, we have a wealth of information to share. When it comes to talking to customers, we want to be the leader in the egg industry and help people understand all the health benefits eggs have. (Speaking of recipes, click on the photo on the right if you want the recipe for this awesome salad.)
I know companies say this all the time, but we really do listen to customer opinions and we welcome comments and suggestions from real moms feeding real kids! We keep a constant eye on the feedback we get through the website and on Facebook. We want people to know they can post their thoughts on our Facebook page anytime. (Click here to do it!)
What is one of the most important facts about your line of products that you think moms need to know?

I'm a mom, too, so I'm conscientious about what my kids eat. We always keep a family's overall health in mind when we develop products. In fact, many of our products are Child Nutrition Certified, Whole Grain, fat-free and cholesterol free, and fiber-rich. Best of all, we also have products that contain Omega-3 and Lutein.
I also want moms to know about this new program called "Great Day Insighters." It's CCF's version of a rewards program. It allows us to reward customers who love our

products. If you sign up as a member, you'll get exclusive coupon offers, promotion announcements, new product announcements and more. If you sign up before August 15th, you'll get a coupon for $1.00 off any carton of Great Day All Natural Eggs. (You could use the coupon to try out the Omega 3 eggs I've been raving about.) You can sign up at www.ccfbrands.com. We also run exclusive offers to our Facebook fans, and we have fan pages for Olde Hearth Bagels, RingO's, Great Day All Natural Eggs and Great Day Breakfast.
Even though CCF Brands makes products sold across the country in stores like Wal-Mart, Target, Sam's Club and Walgreens, we noticed that the company is very connected to certain charitable organizations in Northwest Arkansas, like The Jones Center, Race for the Cure and Kendrick Fincher Memorial Foundation. What's your company's philosophy about "giving back"?
We as a company have been extremely blessed, and being thankful means we pay it forward in whatever means we can. We have a philosophy at CCF that signifies our goal: "CCF Life: Company, Community & Family." We love to be involved in the community. One of our tag lines for RingO's is "Serving Smiles." That's what we strive to do in the community. There's nothing better than seeing a child smile.
We've taken part in the Kendrick Fincher Memorial Foundation Youth Run for the past 5 years. It's an honor to support the tremendous message Rhonda Fincher delivers. The Jones Center is all about kids and we cherish the opportunity to be involved in their programs throughout the year.
Often you'll see us under our Heidi the Hen tent serving bagels or RingO's, with our Heidi the Hen mascot greeting kids. Other times you might see our logo up, and we'll be there in the background helping out with an event. As Ron says, "The positive impact we make in people's lives ultimately defines our significance." Below is a snapshot of Ron with some kids at a local charity event.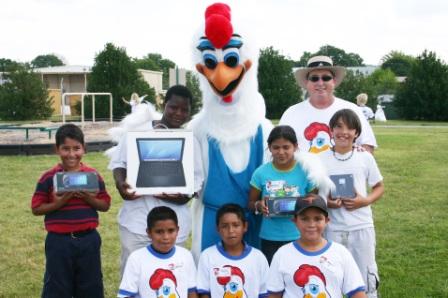 Please help us welcome this new sponsor to nwaMotherlode.com! As you know, the support of local businesses is what makes this site possible, not to mention all the cool stuff these companies give to our readers. Stop by CCF's Facebook page to say hello or thanks, and try out a few of their products next time you're at the store!