Wow. We received LOTS of cute pictures last month for our photo contest. Opening my e-mail was like Christmas every day. So many cute faces to see! Some of them made me laugh out loud and some of them made me go "Awwwwww… that is SO sweet." Check out this little guy above with his green balloon at the St. Louis Arch. I think it's safe to say he was having a fun vacation.
We forwarded all the photos submitted in August to our panel of judges and, somehow, they've managed to pick their top 4 favorites shown in this post. Now… take a look at this brand new tiny little miracle in the midst of a big preemie yawn. It melts your heart, doesn't it?
If you didn't get around to submitting photos for the contest, don't worry because you've still got time. We're accepting photos during September, too. Judges evaluate the photos based on the "biggest emotional impact." So send your favorites to gwen@nwaMotherlode.com. You can send a maximum of 5 photos per month.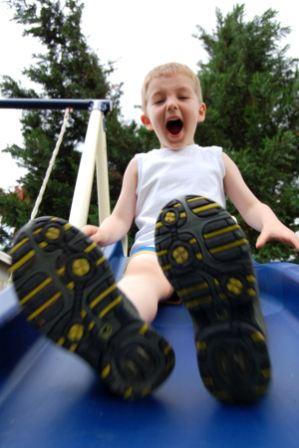 The grand prize winner will get a free session with Melinda Worthington of MJW Photography, who is also the sponsor of our photo gallery. Click here to see her photo blog which always has fun new photos of kids.
Even if you don't win the big prize, you'll still have the chance to show off your kids' cute pics in our online photo gallery found at the bottom of this page. If you're ever having a bad day, you should definitely cruise by here and flip through our photo gallery. I defy any one of you to look at all these sweet kids like the little guy on the slide above and not come away feeling a little bit better than when you started.
Here's the last of our finalists for August. The photo below was sent in by a local mom who says that, even though her newborn's face isn't in this shot, it's still a pretty special picture to her because it was one of the first moments her "furry baby" laid eyes on the newest member of the family. Notice how our fellow mama is obviously fresh from the hospital, wearing her ID bracelets and bathrobe. I love this one. It tells a whole story in one shot.
Congrats to the finalists pictured here. You're one step closer to the grand prize which will be given away at the end of October. Stay tuned for more great photos submitted by local moms!