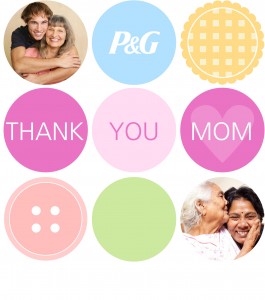 Mamas, do you need to thank your mom? If you've got a story to tell, go to thankyoumom.com and submit a 100-word essay for a chance to win a video camera and $1,000 toward travel expenses so you can say "thank you" in person.
Procter & Gamble started this contest a few months back, but 15 winners will be chosen each month through November 30th. You've got time!
This is a nationwide contest to reunite moms and their kids. If you live near your mom, you can go to the site and vote for the story that most touches your heart.
Thanks to Amber at the-run-amuck for first sharing info about the contest so we could see it and share it with you.
I could write a few of my own stories, like the time everyone in our little family was sick and my mom drove up and took over. The house smelled of potato-cheese soup/Clorox and it was an amazingly calming mixture.
What's your best mom story? Go tell it! If you win, let us know, OK?
Click HERE to find out more about how it works.
Note: The mamas were not compensated in any way to post info about this contest. We just thought it was cool and wanted to let you know about it, too!