One of the best things about the growth of Northwest Arkansas is that we are now home to some highly specialized doctors who have moved to our area in recent years. It's hard enough to have a sick or injured child, so eliminating a long drive (or flight) to see a specialist means parents have more time to focus on their child's recovery.
Last week we had the opportunity to interview one of the Arkansas Children's Northwest specialists who lives full-time in Northwest Arkansas. Her name is Dr. Marcene McVay, and right now she is our area's only pediatric surgeon. Below she answers our questions and gives parents some great tips on what to ask a surgeon when your child needs an operation.
Please tell us the difference between an adult general surgeon and a pediatric surgeon.
In a broad sense, pediatric surgeons specialize in the surgical care of children from birth to adulthood. Children are not just miniature adults. Surgical diseases in children are different than adults – ranging from congenital causes (something they were born with), to issues that present or develop primarily in childhood.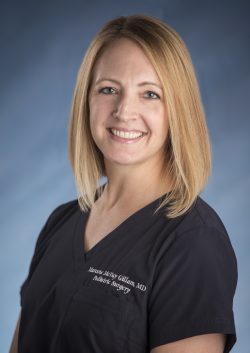 Pediatric surgeons are trained first in 5 years of general surgery (residency), but have added 2 more years to our clinical training (fellowship) dedicated to the management of child-specific conditions.  Most of us have also spent 1-3 years doing clinical or basic science research to advance the field.
We manage the nuanced pediatric differences in basic general surgical diseases like hernias, appendicitis, gallbladder disease and other gastrointestinal disorders, but also have a thorough understanding and the skills to manage complex congenital disorders that most people have never heard of, in almost all parts of the body (You can read about some of the conditions we treat here: https://apsapedsurg.org/parents/learn-about-a-condition/). I like to say that we operate on virtually every organ and body space except the brain, bones and heart.  When feasible and in the best interest of the child, we do minimally invasive surgery (laparoscopy, endoscopy, small incisions) in small spaces – even in newborns.
We are also tireless advocates for injured children – because trauma is the leading cause of death in children over the age of 1 year. We collaborate with hospital and community teams to develop ways to prevent injury, and seek the highest possible quality of care in and outside of the hospital for kids who are hurt. Additionally, we work within a specialized framework of kid-centered care, understanding that children have not only different physical but also psychologic needs associated with their medical care that are very different than adults.
What are some of the most common types of surgery that a pediatric surgeon performs?
Our most common surgeries are appendectomy for appendicitis, repair of all types of hernias (umbilical, inguinal including hydroceles, epigastric, diaphragmatic), pyloromyotomy for pyloric stenosis, circumcision, removal or repair of intestinal abnormalities, and endoscopic removal of ingested foreign bodies (Kids put things in their mouths! The foreign body is usually a coin, but can be almost anything. As a side note: If your child swallows a button battery, come to the ER immediately. They can cause severe damage very quickly if they get stuck in the esophagus.).
How many pediatric general surgeons are working in Northwest Arkansas? When did you come to Northwest Arkansas and what drew you to this area?
I am currently the only full-time pediatric surgeon in NWA, and am the first board-certified pediatric surgeon living and working outside of central Arkansas. (Arkansas Children's Hospital in Little Rock is home to the other only board-certified pediatric surgeons in the state.) I am from Arkansas, born and raised in Fort Smith, and a U of A alumna – so this is "home." After 12 years of medical training in Little Rock, I left for San Antonio to serve in the US Air Force. Upon moving to Texas, I commented to my mentor at Arkansas Children's Hospital (ACH), "If they ever decide to build a children's hospital in Northwest Arkansas, give me a call."
That phone call came in August 2015, and I returned in 2017 to start work on expansion of the pediatric surgery practice from ACH to Arkansas Children's Northwest (ACNW). Along with every physician I have had the pleasure of working with at ACNW, I am fully committed to the mission of providing quality specialty pediatric care "close to home" for every child and family in NWA.  We are excited about this unique opportunity to support and expand the existing medical infrastructure in the best region in Arkansas!
What are the main benefits of using a pediatric surgeon for a child's operation versus an adult general surgeon?
I touched on this in my first answer, but will add that our training and experience not only makes us adept at the operative management of pediatric surgical disease, but also makes us astute in recognizing and treating medical complications of disease. Because children aren't just little adults, their physiology and response to illness is different.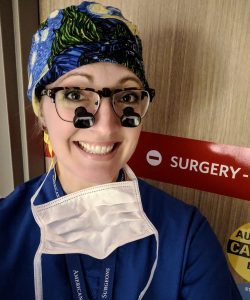 I want to answer a later question here, as well: "Are pediatric surgeons trained to help young patients understand what will be happening to them during a surgery and allay their fears?" Yes! We are actively involved in modulating the environment of the hospital and surgical experience for our little patients. We collaborate with child life specialists to make the perioperative experience less scary for children, and we are experts in calming nervous parents. We were some of the first advocates for family-centered care by including parents in decision-making, ensuring multi-specialty collaboration, and minimizing psychosocial trauma.
Additionally, our specialized work requires the expertise of pediatric anesthesiologists, who have also had additional training (fellowship) in providing the safest anesthesia practices for infants and children. At ACNW, we have the benefit of an OR that is structured specifically to facilitate parental presence at the induction of anesthesia for the majority of our patients, when clinically appropriate.  This is a huge factor in decreasing anxiety for both the children and the parents.
What types of questions should parents ask their child's surgeon when considering their options for surgery?
Hopefully your surgeon will answer most if not all of the following questions during the initial discussion of your child's diagnosis and treatment recommendations:
Is surgery necessary? Why so, or why not?
There are abnormalities that can be corrected, but might not need to be. Some must be corrected soon after discovery because of complications that can occur if left untreated. Others should be corrected, but the age of the patient is important in determining the time frame for surgery (months to years later). Other conditions require no intervention at all.
Are there different methods to do the surgery you are recommending?
Laparoscopy – or in the chest, thoracoscopy – are almost always an alternative to an "open" approach to surgery. If beneficial, these are preferred. However, they are not always the best or safest method to fix the problem. Your surgeon should be able to explain why the recommended approach is preferred.
What are the risks of surgery, and what is the risk of not doing surgery?
No procedure is completely risk-free, but some risks are minor. If the benefit of surgery does not outweigh the risk, then it should be questioned.
What is the recovery going to be like? What expectations should there be for pain afterwards? What activity restrictions will there be, and when can my child return to school and/or sports?
The answer to these questions will be different for each procedure. Pain, and the anticipation of pain, is an important factor to consider. The vast majority of children under the age of 10 years do not require prescription pain medication following the most routine procedures. It is easy for parents to project their own expectations of pain onto their children, yet they are often surprised at how quickly their child returns to normal play and activity after surgery.  Your surgeon should provide a plan for pain management that addresses your concerns. My patients receive a multimodal approach to pain control that includes IV and local pain control injections in the operating room, as well as a detailed plan for pain control at home. You can find more information about pain management in children at: https://apsapedsurg.org/parents/understanding-pain-management/.
What type of anesthesia is needed for the surgery, and who will be providing it?
Anesthesia for the operation is just as important as the surgery itself. Awake procedures in clinic do occur but are rare in children because of age-appropriate anxiety and the inability to cooperate with being still. For this reason, most procedures, even those that would be performed awake on an adult, are performed in the OR under sedation or general anesthesia. You will have the opportunity to meet your child's anesthesiologist prior to the procedure on the day of surgery. We also provide a booklet describing the process of anesthesia and what to expect on the day of surgery, on the day that your child's surgery is scheduled in clinic.
Describe one of your most rewarding experiences on the job as a pediatric surgeon.
Every day and every experience is rewarding to me. I'm not exaggerating when I say that this work is my passion. I have the best job in the world, and could share with you at least 4,872 reasons why (but, no room for that here). Restoring form and function, and guiding a tearful child and nervous family on their journey through fear and pain to laughter and playfulness, is the ultimate reward for a job well done. Every child leaves a mark on my heart, and takes a piece of my heart with them.
Many parents in Arkansas have amazing stories about experiences at Arkansas Children's. From your perspective as a surgeon, how would you describe the culture/atmosphere of the hospital to someone who has never been there before?
There is a reason that Arkansas Children's is consistently voted one of the "Best Places to Work" in Arkansas. Everyone who works here, from nurses to cleaning services to chaplains to food service workers to volunteers and physicians, are unified in the mission of caring for children: their medical, emotional and social needs. This creates an incredibly collegiate and collaborative working environment, allowing us to flex to rapidly meet those needs.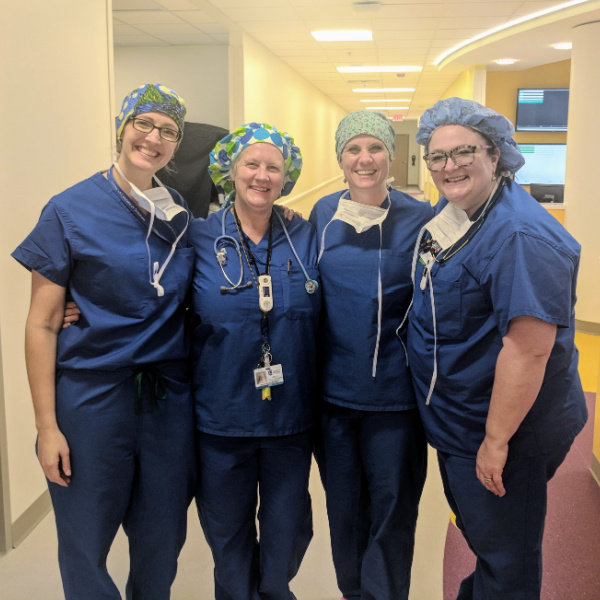 From the bright colors, to the kid-sized details (small doors, short toilets, lots of toys), to the smiling friendly faces of people who are experienced at interacting with children and meeting them "where they are," our hospitals are designed and staffed to enhance the overall experience of children and their parents. It provides comfort and ease in what can be the worst of situations.
If you could wave a magic wand and make one thing different about medical care in this country, what would it be?
Just one thing? Though America has the best access to the latest and greatest medical advancements in comparison to the rest of the world, our healthcare system is broken. Healthcare costs per capita are orders of magnitude higher than almost any other developed country. Finances aside, the biggest frustration pediatric clinicians encounter is inequal access to care for all children. This is a complex problem with multiple variables, but since I have a magic wand…. I want all children to have prompt access to the medical evaluation and treatment that they need.
When you're not at the hospital, what do you like to do to unwind or have fun?
Because I'm so passionate about my work, I don't spend a whole lot of time outside of the hospital right now. But, when not working, I share my time with family, friends and my beagle Lucy. My husband and I enjoy traveling (though COVID has cancelled most of our 2020 plans), exploring the local restaurant scene, and major and minor league baseball. We also spend a lot of time putting sweat-equity into our home and property. Once a second surgeon is added to the pediatric surgery practice at ACNW, I look forward to getting active again in road cycling and CrossFit (I miss the daily work-out routine!).
Our thanks to Dr. McVay at Arkansas Children's Northwest for her time and for sharing her expertise. For more information about Arkansas Children's Northwest and its wide range of specialists, click HERE to visit the website.