Today we're continuing a series of essays written by Northwest Arkansas mamas from way back when nwaMotherlode.com first launched in May 2008. These stories are in honor of Mother's Day and to celebrate our 9th blogoversary.
Click here to read the first heart-warming story, Two Kids and a Happy Meal.
The story below was also chosen as a finalist in our first ever essay contest. This mom and her daughter, Emily, are BOTH miracles. Read on and you'll see what we mean.
Look for an update to this story at the bottom of the post.
By Darlene Cassat
People say that each birth experience is different. No truer words have ever been spoken when I think about my own experiences.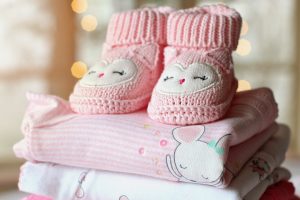 My son was an easy natural birth that I only labored over for 3 hours. Emily, my precious baby girl, would be brought into this world via a very, very different experience. The kind of experience most doctors have rarely dealt with.
It was a pretty uneventful pregnancy. I had been feeling awful compared to my first go-around but I blamed it all on being 34 years old. The morning of January 11, 2007, my husband and I took our little boy to school. Cody was so excited that by the end of the day he would officially be a big brother. We couldn't wait to introduce the two of them later in the day.
My husband and I got to the hospital around 8:30.The nurse that was assigned to me helped get me into bed and started the Pitocin that would induce my labor. I was having some pain but not too much discomfort. My husband and I visited with his mom; she had taken the day off in anticipation of the baby being born. We visited with the nurse, and watched Rachael Ray on television.
Around noon my contractions started getting more uncomfortable and I began to cry. The nurse came in and asked if I would like an epidural. I really didn't want one. There was something about the needle in my back and the fact that I didn't want to chance a mistake, but I said yes anyway. The pain from the contractions was unbearable. The nurse told me I was only at a 4 on the machine dispensing the medication and that I would need to get to an 8 or 10 before I would progress along enough to give birth. I hadn't wanted to be induced. I'd hated the thought of it. I didn't want to lay there in pain all day. It slows things down and that was the last thing I wanted it to do. Ugh!
I survived the epidural and started to relax a little bit. My husband and I continued watching television and discussing how our lives would be hugely changed from this day forward. Change is something neither my husband nor I deal with very well. We handle it like most people would handle a death sentence, with much anxiety.
At approximately 3:15 p.m. my husband noticed the baby's heart rate had dropped to a very low level on the monitor. He started to point it out to me when the door to my room flew open and the nurse flew in. She checked me, told me she would need to get the doctor, and ran back to the door. What happened after this is a huge blur. Our lives would never, ever be the same again.
I remember the doctor came into the room and checked me. I saw a lot of blood and knew something was wrong. I immediately looked at the clock and told Chuck to go and find Cody and his mother and not to let them see me like that. I didn't want to scare Cody. After all, he was expecting to be introduced to his new baby sister, not learn that the next 24 hours would be critical for both his mom and the baby.
I remember seeing the doctor going to wash his hands and turning in circles in the room while repeatedly apologizing and saying that I would have to have an emergency C-section. He made me nervous. He was obviously rattled. Meanwhile the nurse knew exactly what was happening. She was yelling at the other nurses to "get the cart" and pulling apart all my hoses from the machines I was hooked to as quickly as she could.
I must have been going in and out of consciousness because I don't remember some of the things my husband tells me they did to me. For example, Chuck said they spent a good 10 minutes trying to get the baby to turn because the doctor thought the baby just needed to be re-positioned. He was unaware that my uterus had ruptured.
They wheeled me out of the room with such urgency that they accidentally rammed me full force into the nurses' station that was just outside the door of my room. That woke me up and I again tried to understand what was happening. I realized I needed my husband so I yelled out to him to ask if he was coming with me and after a short hesitation he responded with a "no". He had looked to the doctor for guidance and the doctor just shook his head no. I responded with an "OK".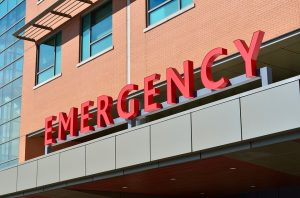 I could tell by his voice and he said he could tell by mine that we were both scared to death.We didn't know how close to death I was ….
When we got into the surgery room, they flopped me onto the operating table and I remember the doctor standing over me holding some kind of large "template" that he was going to lie on my stomach. I assumed it was a guide for where he would make the cut for my C-section. Then he began to repeat with much urgency in his voice, "Tell me when I can cut".
At that point I lowered my head back to the table and told the nurse that I couldn't breathe. I was so scared. The room felt so cold and I felt a big rush of cold air pass over me. It was the same doctor that did my epidural; she was back to put me completely under.
My husband sat in the waiting area, alone, trying to grasp what was happening. He contacted my mom and asked that she come to the hospital immediately that I was having to have a C-section and that something was wrong. She unknowingly assured him that C-sections were normal and that she was sure everything would be fine. He again asked her to come quickly and she agreed to come as soon as possible.
In a nutshell, what seemed like hours would pass before my husband and family found out that my uterus had ruptured. I woke up in ICU.
When they had looked in my uterus for the baby she wasn't there. She had gone up into my abdomen trying to find air. I had lost a lot of blood. After supplying me with my 8th unit, the doctors decided to sew everything up with hopes that it would stop the bleeding. It was estimated that Emily had gone without oxygen for approximately 15 minutes.

The nurse told my family that the next 24 hours would be critical for me as I was moved to the ICU and that the baby would be air-flighted to Arkansas Children's Hospital to take part in a cooling cap study that might save her from having any permanent brain damage.
I survived and the cooling cap — along with lots and lots of prayers — prevented my sweet baby girl from having any yet-to-be-seen complications from her lack of oxygen. We are both true miracles.
My OB nurse came to see me the day I was being released from the hospital just to set eyes on me one more time. She shared with me that when they've had that happen in the past, 50% of the time they lose the mom and 80% of the time they lose the baby.
Each day is a gift.

Update on Emily, from her mom: Emily is now 10 years old and a very typical 10-year-old at that.
After a few early years of intense physical therapy, a stint of speech therapy and occupational therapy, she is doing better than GREAT! She loves to swim, play basketball, and try to do all those crazy experiments she finds on YouTube.
She does well in school and enjoys time with her friends. There are challenges. We deal with them as they pop up. As for her never walking, talking or knowing how to feed herself  – none of that. She is strong and lives each day with purpose.
She has a huge heart. She needs it to hold all the love she has received in her relatively short life. I'm so, so proud that I was chosen to be her Mom!