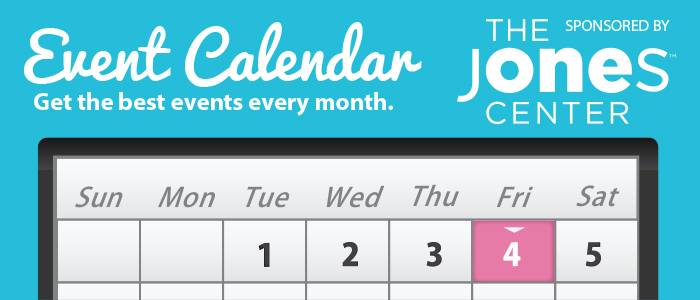 First Friday Flicks
The Lego Movie!
Date: Sept. 4
Time: Approximately 8p.m.
Location: Lawrence Plaza, Bentonville
More info: Click here
Lunch Spin Classes
Lunch spin classes will start at The Jones Center on Sept. 4 on Mondays, Wednesdays and Fridays from noon to 12:45 p.m.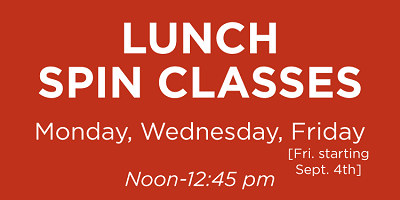 Date: Starting Sept. 4
Time: Noon
Location: The Jones Center, Springdale
More info: Click here
Prairie Grove Clothesline Fair
Date: Sept. 5-7
Time: Starts at 8:30 a.m.
Location: Prairie Grove Battlefield State Park
More info: Click here
Labor Day celebration at War Eagle Mill
Labor Day with live music by local country singer, Ronny Gibbons, and jewelry craft demo by Eureka Janet. Enjoy a pulled pork lunch special at the Bean Palace Restaurant as well.
Date: Sept. 7
Location: War Eagle Mill, Rogers
More info: Click here
Labor Day weekend: Celebrate at Crystal Bridges
From Light Night to a tour through Crystal Bridges' Collection Highlights, your holiday weekend is covered. Learn from an expert in monarch butterflies with a special Discover the Grounds on September 5, enjoy High South Cuisine in Eleven, and stroll through our many galleries—including Warhol's Nature and Jamie Wyeth. The Arkansas Democrat Gazette recently interviewed Wyeth as he shared stories of Warhol, his thoughts on viewing his own work, and the lessons learned from his father and grandfather. Spark creativity with our Experience Art Studio, a fun discovery space for both children and adults featuring a creative play space, art-making supplies, toys, and games to enjoy together.
Location: Crystal Bridges Museum
Time: Varies
More info: Click here to read about more upcoming events at Crystal Bridges
Teal Talk luncheon
In honor of National Ovarian Cancer Awareness Month, First Security Bank is hosting a Teal Talk luncheon on Tuesday, Sept. 8. The event will provide information on ovarian cancer prevention, detection, treatment and recovery from physicians and experts in the community.  According to the American Cancer Society, ovarian cancer is the fifth leading cause of cancer deaths in women age 35-74. One in 72 women will develop ovarian cancer in their lifetimes. In Arkansas, approximately 200 women will be diagnosed with ovarian cancer each year, and 150 deaths occur per year from this disease. The event is free, but seating is limited. Call (479) 527-7015 to reserve your ticket, or stop by any First Security Banking Center.
Date: Sept. 8
Time: 11:30 a.m. to 1 p.m.
Location: John Q Hammons Center at 3201 Pinnacle Hills Parkway in Rogers.
More info: Click here
Farmland Adventures Corn Maze/Pumpkin Patch
Fall outdoor family fun on the farm. A variety of attractions including a 9-acre Giant Corn Maze, a pumpkin patch, pony rides, farm animals, pig races, a kids play area and more. Open September 11th to November 7th on Fridays from 1PM-9:30PM and Saturdays from 9AM-9:30PM.  Also available for group outings or birthday parties. NOTE: Farmland Adventures will be selling Christmas trees this year! They'll be open for the holiday season from Nov. 27th through Dec. 19th!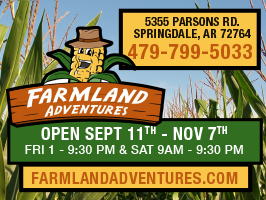 Date: Open Sept. 11-November 7
Time: Fridays, 1-9:30 p.m. and Saturdays, 9 a.m. to 9:30 p.m.
Location: 5355 Parsons Rd, Springdale
More info: Click here
Chefs in the Garden
An evening of cooking demonstrations, samplings, wines that complement each dish and a complimentary bar to complete the evening.
Date: Sept. 15
Time: 6-8:30 p.m.
Location: Botanical Garden of the Ozarks, Fayetteville
More info: Click here
City of Rogers 4th Annual Dog Show
Registration starts at 5:30pm. Dog show with 8 categories for a doggone good time with your doggie best friend. $8 to pre-register – $10 at the event. Showcasing 6 free dog adoptions (all spayed/neutered and ready for a forever home) All from Rogers Animal Shelter. Winning categories – 1st, 2nd and 3rd place: Best kisser, Best trick, Best Looking Big dog, Most fabulous fella, Most stunning small dog, Best costume, Loveliest lady, Most gorgeous golden oldie and Best in Show. Rogers Police Department K9 demonstration while judges vote. ALL proceeds go to the Rogers Animal Shelter.
Date: Sept. 18
Time: 6-7:30 p.m.
Location: Frisco Main Stage, Rogers
More info: Click here
Exeter Corn Maze
Corn Maze: Enjoy seven acres of twist and turns, over scenic bridges, check out our observation tower and while your in there make sure to find the clues to help navigate your way through. Pumpkin Patch. Pumpkin Jump. Zip Line: Fly through the air from one tower to the next on the most popular activity in the barnyard. (Riders must meet 5 ft height illegibility.) Pumpkin Canno. Cowtrain. Corn Cannons. The Shootout Shack. Free Campfire Areas. Hayrides. Lots of Free Activities including: slides, indoor zip line, barn swings, petting zoo and more. Zombie Paintball. The Harvest of Terror. The Haunted Barn.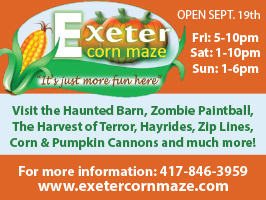 Date: Opens Sept. 19
Time: Varies
Location:
More info: Click here
Bikes Blues & BBQ
Date: Sept. 23-26
Time: Varies
Location: Varies
More info: Click here
Annual Northwest Arkansas Author Book Fair
Meet and greet talented local authors and illustrators who will read and talk about their books in the Library's Children Auditorium! This event is free and open to the public.  For more information visit the Reference Desk or call 479-750-8180.
Date: Sept. 26
Time: 11 a.m.
Location: Springdale Public Library
More info: Click here
Friends of the Library Book Sale
The Friends of the Library will hold the annual Book Sale Wednesday, September 23 through Saturday, September 26, in the Shiloh Room. On the final day of the sale, a $2.00 bag sale will start at noon and continue until 4:30 pm.
Dates: Wednesday, September 23 – Saturday, September 26
Location: Springdale Library
More info: Click here
Upcoming event:
The Expelled Haunted Attraction
Oct 1st = $8 / Sissy Night (some overhead lights on, as well as all set lets. NO ACTORS) This night would be ideal for anyone wanting to see the haunted house and all of its spooky details, without having to worry about being scared by any actors.
Oct 8th = $10 / Family Night (no overhead lights, all set lights on. Some actors) This night falls somewhere in between Sissy night and the regular season event. There will be some actors, but children (or terrified adults) get to control the scare. Each group will be given a flashlight upon entrance and if the actor is too scary for the child/adult then they'll shine the flashlight on them, and the actor will cower away (as if they're afraid of the flashlight).
Date: Oct. 1 & 8
Time: Varies
Location: Huntsville (click here for directions)
More info: Click here